Pick of the Week, Our Team's Favorites
Print
Pick of the Week, Our Team's Favorites
It's really fun for us to find out what our team member favorites are, and we thought you might be interested too! Each week, we will add a new favorite to the top of this blog post. That way, you not only know what we are crushing on this week, but also previous weeks as well. Give us a call or email us to check inventory as things sell fast, especially during our busy seasons.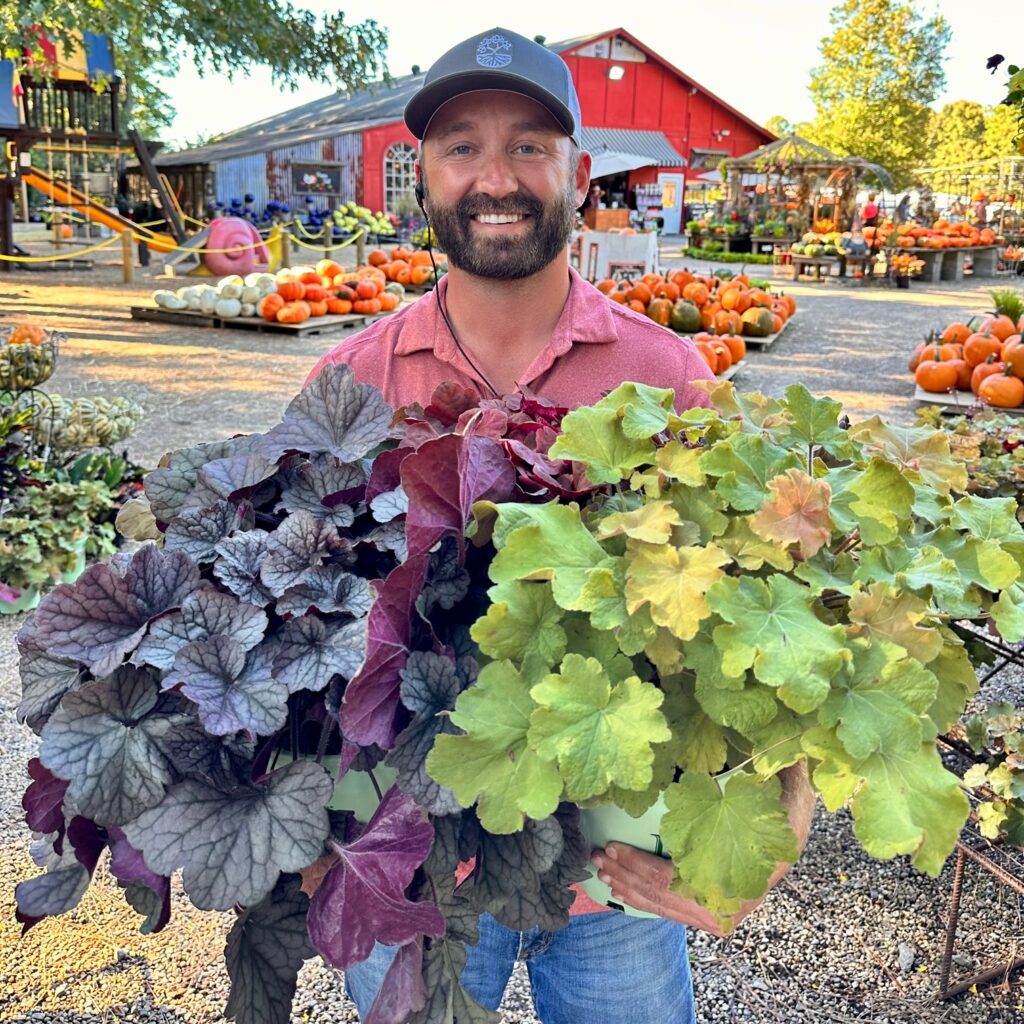 Heuchera, also known as Coral Bells
Keaton's Pick of the Week
Keaton loves this plant for many reasons but maybe the one that pertains to fall the most is how well it does in cool season container plantings!  Heucheras are a shade to part sun perennials, available in a variety of striking leaf colors.  This plant blooms too, and is one of the few shade garden pollinator plants available.  Flower stalks rise up from the foliage, and bell shaped flowers (again, in a variety of bloom colors in shades of white and pink) grace the bloom stalks.  Here in our area, some varieties of heuchera are even evergreen, especially in pots.  Pair with lime green creeping jenny, Autumn ferns, cascading Cool Wave pansies for a wonderful mixed container!  Another cool fact, we just got tons of fresh heucheras in today!  For more information on this plant and to check out what we have on hand, visit this link.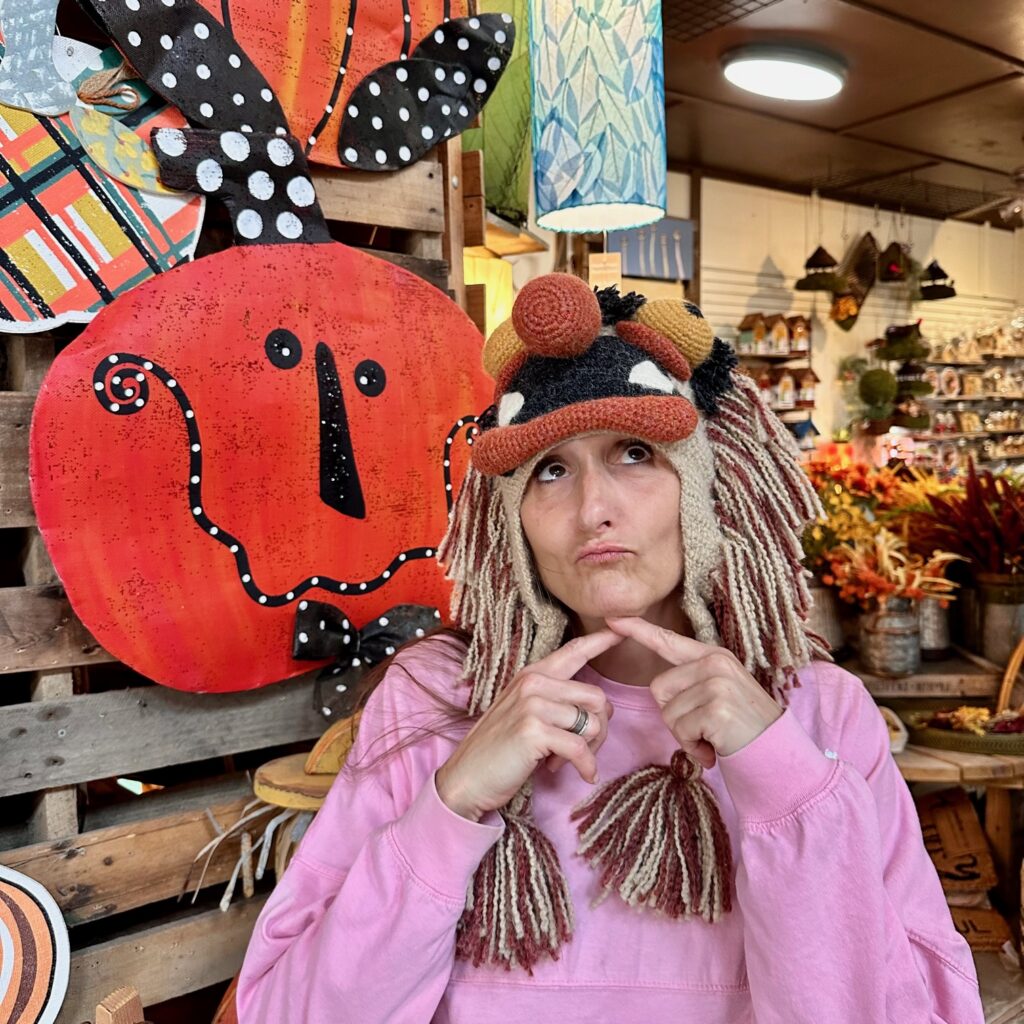 Quirky and Fun Peruvian Wool Hats!
Laura's Pick of the Week
This is Laura's favorite because they are unique, fair trade, and just plain FUN!  Throw one of many different hats on, and create an instant Halloween costume. The company behind these creation has a great story; Peruvian knitters in the outlying areas around Lima, Peru are sent designs and yarn, and spend time creating these hand knit pieces; each one unique. Hats are knit after the harvest season, when work is difficult to find. We are excited to have many different options to choose from; come check them out!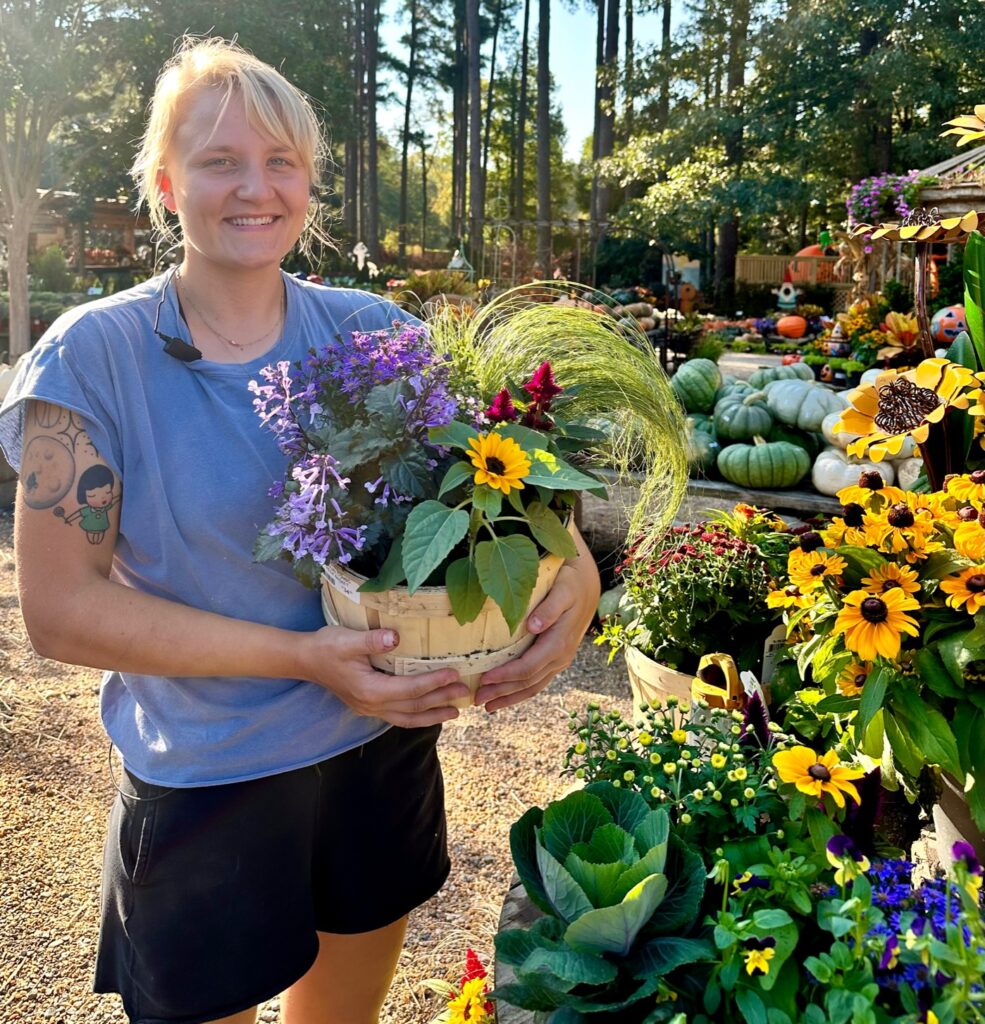 Fall Combo Pots!
Brennan's Pick of the Week
This is Brennan's favorite because… the work is all done for you!  Sometimes you want pick your favorites and spend time arranging them just so, but sometimes, you just need to grab something already perfectly complete and ready to set down in place and enjoyed.  These fall combos are perfect for that; available in half bushel and peck baskets, while supplies last.
And once these are gone, no worries; we can quickly help you pick out plants and a pot so you can create your own almost as quickly.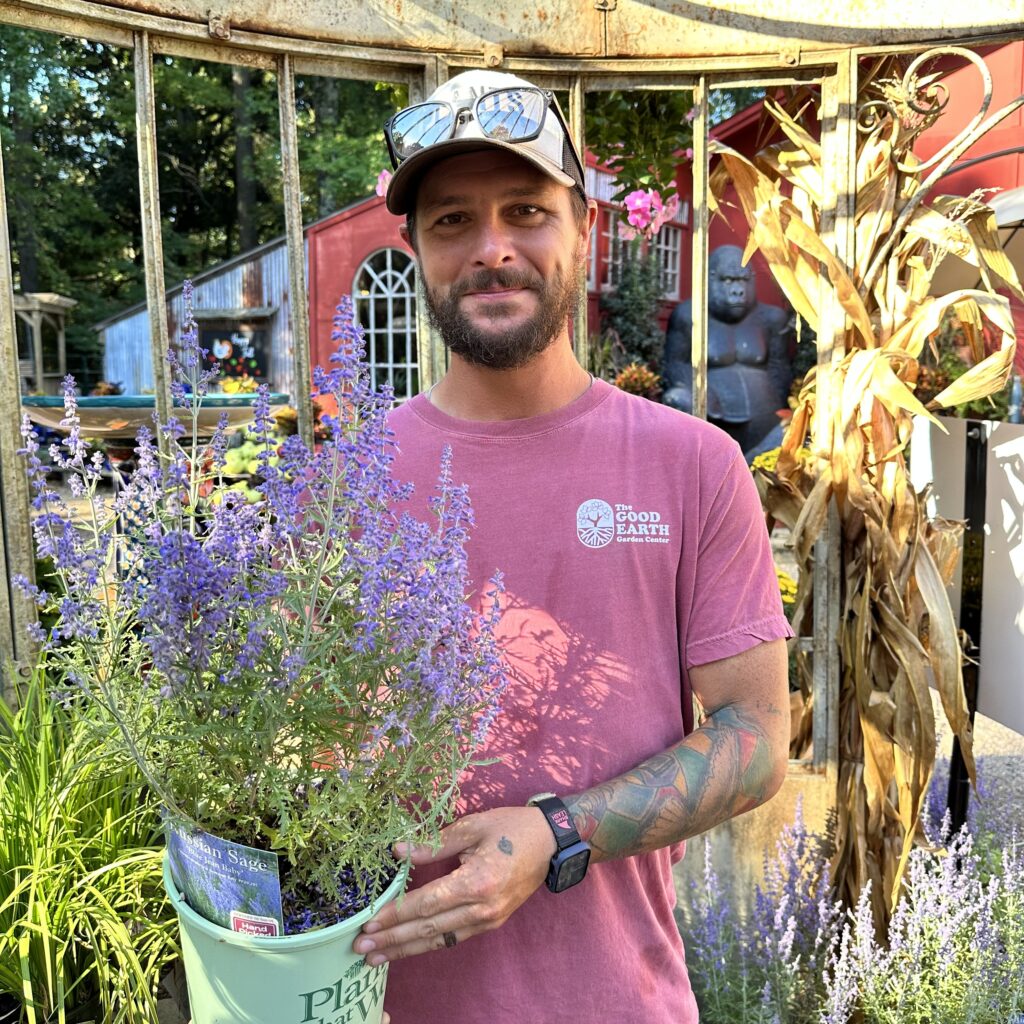 'BLUE JEAN BABY' RUSSIAN SAGE
Jonathan's Pick of the Week
Russian sage is an outstanding perennial for sun gardens, and really stands out when planted in mass or as a border plant… but it also fit in well scattered here and there in a cottage style garden!  Beyond the visual versatility, it is a tough perennial, loves the heat and is drought tolerant once established.
Many Russian sage varieties grow pretty big (3 to 4 feet tall and wide) but 'Blue Jean Baby is a shorter variety that tops out at 2 to 3 feet tall, with a width of 3 feet. This vigorous bloomer is one of the earliest bloomers, with midsummer soft, smokey blue-purple calyxes that stay looking good well into fall.  The foliage of Russian sage is a soft grayish-green and has a fine texture.  Plus it is aromatic and makes an outstanding cut flower!

BLUEBERRY PLANTS (AND BLACKBERRIES AND FRUIT TREES!)
Jen's Pick of the Week
It's pretty obvious why this is my favorite; I love fruit!  And it's really cool that so many different kinds of fruit, from small fruits (blueberries and blackberries) to tree fruits grow well here.  But another reason these plants are my fall favorites is they are unexpected.  Not all garden centers carry them during the fall season, but it's a wonderful time to plant them. This is because the soil temperatures are warm and there is time for roots to get established before the cold season gets here.  As far as what to grow and how to grow them, we have a few wonderful blog posts for you to check out!
How to Grow Fruit Trees in Arkansas
How to Grow Blueberries in Arkansas
How to Grow Blackberries in Arkansas
A few things to keep in mind; inventory changes all the time and we may not have all the varieties mentioned.  If you are looking for something specific, email or call us! Secondly, if you miss this planting season, remember that spring is a great time to plant fruits as well.  And out of all the fruits, blueberries are my Fall Pick of the Week because they grow well in landscape beds, providing very nice yellow fall leaf color!

AMERICAN GOLD RUSH RUDBECKIA (sold out as of 9/22/23 but more on order!)
Tyler's Pick of the Week
My fall pick of the week is the American Gold Rush Rudbeckia. This plant won the 2023 perennial plant of the year due to its' more compact growth habit (about 18-24″ tall and wide) and better disease resistance. I love Rudbeckia because it blooms and blooms for so much of the year and is a very tough plant.
Here is some general information about Rudbeckias:
Rudbeckia, also known as Black-eyed Susan, are native plants that offer long-season blooms from summer to fall. Rudbeckias show particularly well in mass, providing bright blooms all season long. Adding these plants to native plant gardens or mixed landscape beds for a naturalized look. Rudbeckias grow well in average soil but the soil needs to be able to hold moisture. These grow very well in sunny spaces; if the clump gets too large for your space, just divide it and give plant starts away to friends!
Sun to Part Sun
Deer resistant
Drought tolerant once established
Attracts birds, beneficial to pollinators
Great cut flower
Plant size, bloom size, bloom color all vary with specific variety
Low maintenance plant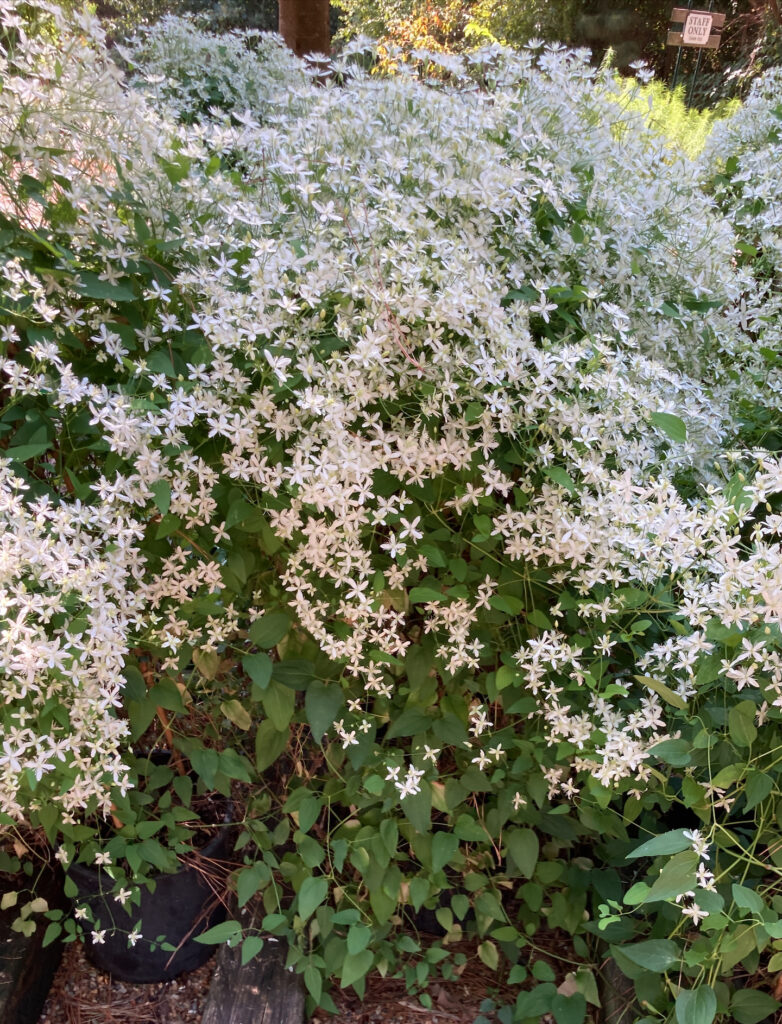 SWEET AUTUMN CLEMATIS
Kelly's Pick of the Week
This plant is a show stopper! Love how there are so many beautiful flower, and how fragrant Sweet Autumn clematis is.
Sweet Autumn clematis is what the name indicates, a fall blooming, fragrant clematis vine.  There are many clematis varieties and most are spring or summer bloomers, with sizable, brightly colored blooms.  There are event a few evergreen varieties such as Armandii, and developed selections from this variety, such as Apple Blossom.
Sweet Autumn is a perennial, deciduous vine, like most of the clematis types. However, unlike most others, this one blooms in late summer to early fall, specifically August to September. Clematis do not have aerial roots that enable it to attach to a structure; it grows by twining around a lattice, fence, wire or similar structure.
This is a vigorous plant that benefits from being cut back hard in the very early spring, before it emerges from dormancy and puts on new leaves or shoots. Plant in full to part sun, in an area where the roots will be a bit shaded.  Like most ornamental shrubs and trees, Sweet Autumn clematis does best in well drained soils; avoid letting roots become water logged.
There are some areas of the United States where it grows TOO well.  Avoid letting this plant take over a space, and remember to trim it back to keep it in desired bounds.
Check back soon for more Staff Picks of the Week!