Pick of the Week, Our Team's Favorites
Print
Pick of the Week, Our Team's Favorites
It's really fun for us to find out what our team member favorites are, and we thought you might be interested too! Each week this fall, we will add a new favorite to the top of this blog post. That way, you not only know what we are crushing on this week, but also previous weeks as well. Give us a call or email us to check inventory as things sell fast, especially during our busy seasons.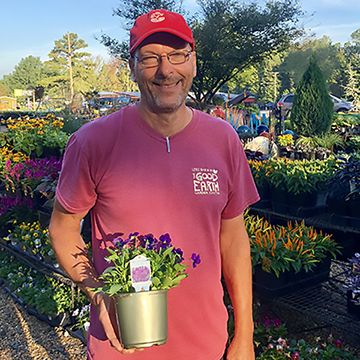 Nature Series Pansy
Steve's Pick of the Week, October 24th
We were excited to see what Steve's favorite was this fall, and were even more excited that he picked the Nature series pansies! These pansies are actually a hybrid between a pansy and viola, and have the best characteristics from both. Nature pansies have a dense, uniform growth habit, and although they only grow up to 6-10 inches in height, they can grow up to 14 inches in width.
Steve has planted Nature pansies at his home for the past several years and is continually impressed by how they hold up to the winter weather, from snow to extreme temperature swings.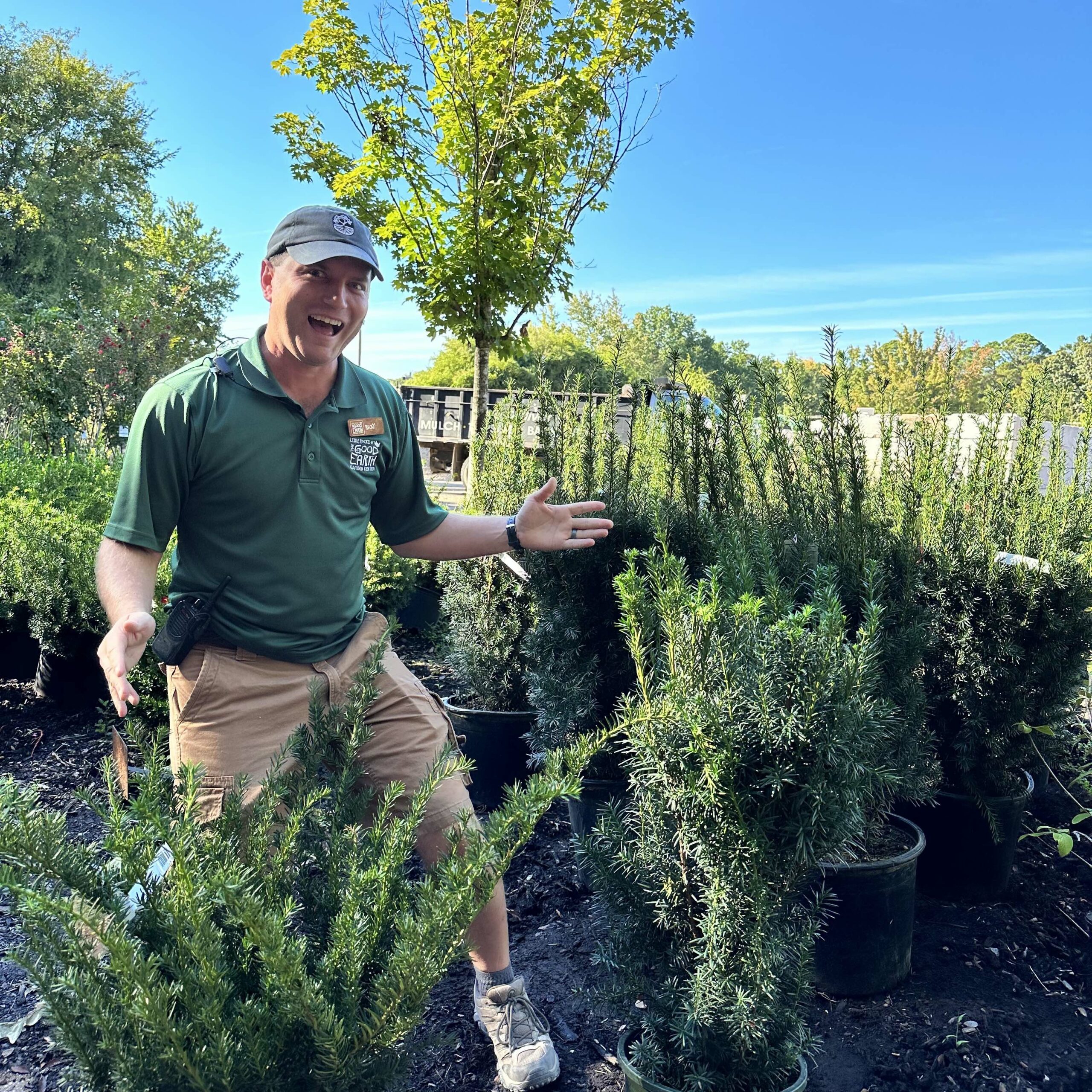 Yew
Ricky's Pick of the Week, October 13th
This durable, shade to part-sun evergreen plant adds a lot of variety to a shady area needing something different. We carry three distinct flavors. Densiformis Yews are a great change to substitute for azaleas. This large shrub makes a great hedge or as a unique understory tree, perhaps to offset the defoliation of your hydrangeas. Hicks Yew are a slender, tall variety, excellent for pots and also to provide height between windows or around patios in your home. Slow growing, it's an easy plant to trim and keep at the right specs for your landscape. Spreading Yews, are a lovely evergreen groundcover providing contrast in front of your azaleas or around a pond.

Sunshine Blue Caryopteris
Sean's Pick of the Week, October 8th
Caryopteris, or bluebeard, is an awesome plant to begin with, this newer variety has all the same great qualities but with the added pop of chartreuse-yellow foliage. So why should you love this plant? Drought and heat tolerant, blooms during the hottest part of the year when most other plants are taking a break, cool blue blooms contrast with the bright foliage. It's also a great cut flower with a very long vase life and pollinators go crazy for the abundant flowers! All it wants is full sun, good drainage, a hard haircut early spring, and benign neglect.  Sunshine Blue stands out even more when planted with a dark foliage plant like loropetalum.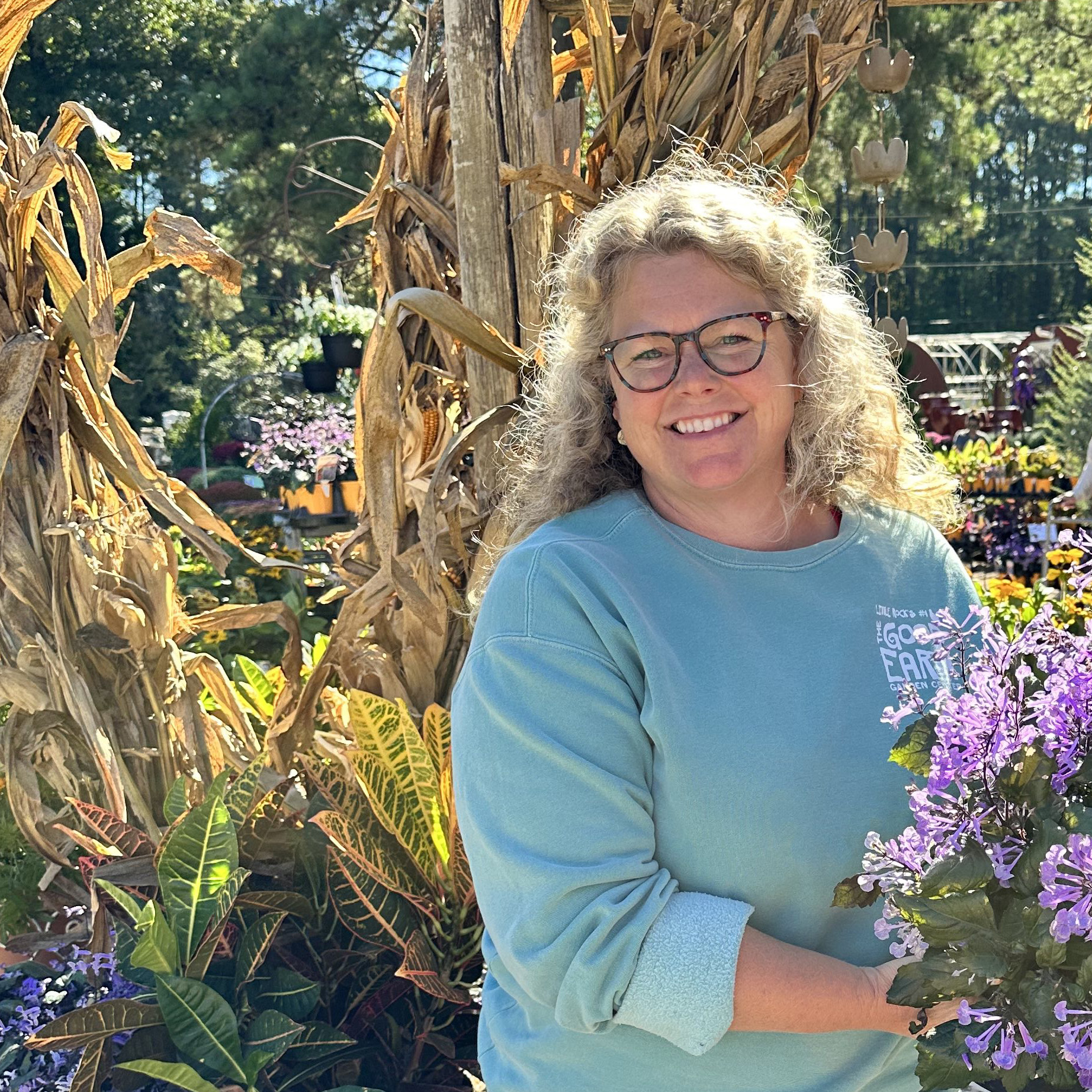 Mona Lavender Plectranthus
Jen G's Pick of the Week, September 26th
My fall pick of the week is 'Mona Lavender', which is not a true lavender at all, it's a plectranthus or Swedish Ivy.
This plant is a part-sun to shade warm season annual, that can take full sun during Fall's cooler weather. The large florettes are amazingly striking and stand out, even from a distance. This annual can also be grown as a houseplant; bring it in when temps lower later this fall, and place it back outside next spring!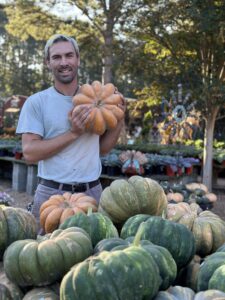 Fairytale Pumpkin
Tyler's Pick of the Week, September 19th
I love their shape, and how they fade from a dark green to a light chestnut color.  Perfect for making pumpkin stacks or to prop up on it side and put smaller gourds and pumpkins around. My favorite thing about them however is their flavor! This is a GREAT cooking pumpkin; lightly sweet and mildly nutty, this is a perfect option for soups, curry and even cheesecake!!

PUMPKIN PARTS!
Laura's Pick of the Week, September 12th
Enjoy your pumpkin more than ever when you use pumpkin parts! These transform your pumpkin into a cute work of art even the youngest Halloweener can enjoy! The parts are designed to be pushed into the sides of pumpkins which make it safe for all ages. With all the pumpkin guts left inside the gourd, there's nothing to clean up  and they can be used time and time again! Also who says they have to be used only at Halloween, try them on watermelons or other items throughout the year as a fun craft for the kids!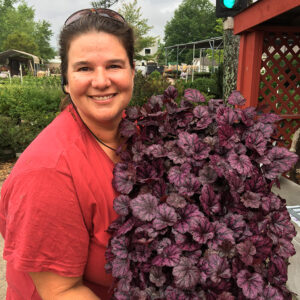 ORNAMENTAL GRASSES!
Jen M's Pick of the Week, September 6th
Ornamental grasses offer so much to a landscape and are often overlooked until they start to bloom. Architectural, and textural; they can help define other shrubs.  The sway of the grasses shows the rhythm of the breeze as it blows by.
Right now, we have all kinds of ornamental grasses; seasonal favorites like Purple Fountain Grass, and hardy perennial grasses like medium height Adagio, small growing Sweetflag and the ever impressive Pampas Grass.  We just got in some Purple Muhly Grass too! Visit this link for more information about ornamental grasses.An aside; Jen M is our perennial grower and is pictures with another favorite, heuchera! As we mention in the newsletter, we just got tons of Proven Winner heucheras (shade loving, colorful perennials also known as Coral Bells) in this week.

MUMS!
Angie's Pick of the Week, August 29th
My Fall Pick of the Week is the Mums.  I'm never sure exactly when they are going to come in so I am always surprised to see them roll off the truck.  When I see the mums, I know that cooler weather is soon to follow and pansies and pumpkins are right around the corner.  With their huge blast of color, they are perfect companions for our pumpkin displays, and a great way to usher in Fall and the coming holidays!
A quick note:  We know what you are thinking… those aren't mums Angie is cutting.  Nope, but this picture of our sweet Angie was too cute not to share! She is cutting a bouquet from our zinnia bed, which we grow from seed each summer.  If you would like some zinnias this fall, we will have pots of them soon… watch our social media for updates!