All About the Cool Wave Pansy
Print
All About the Cool Wave Pansy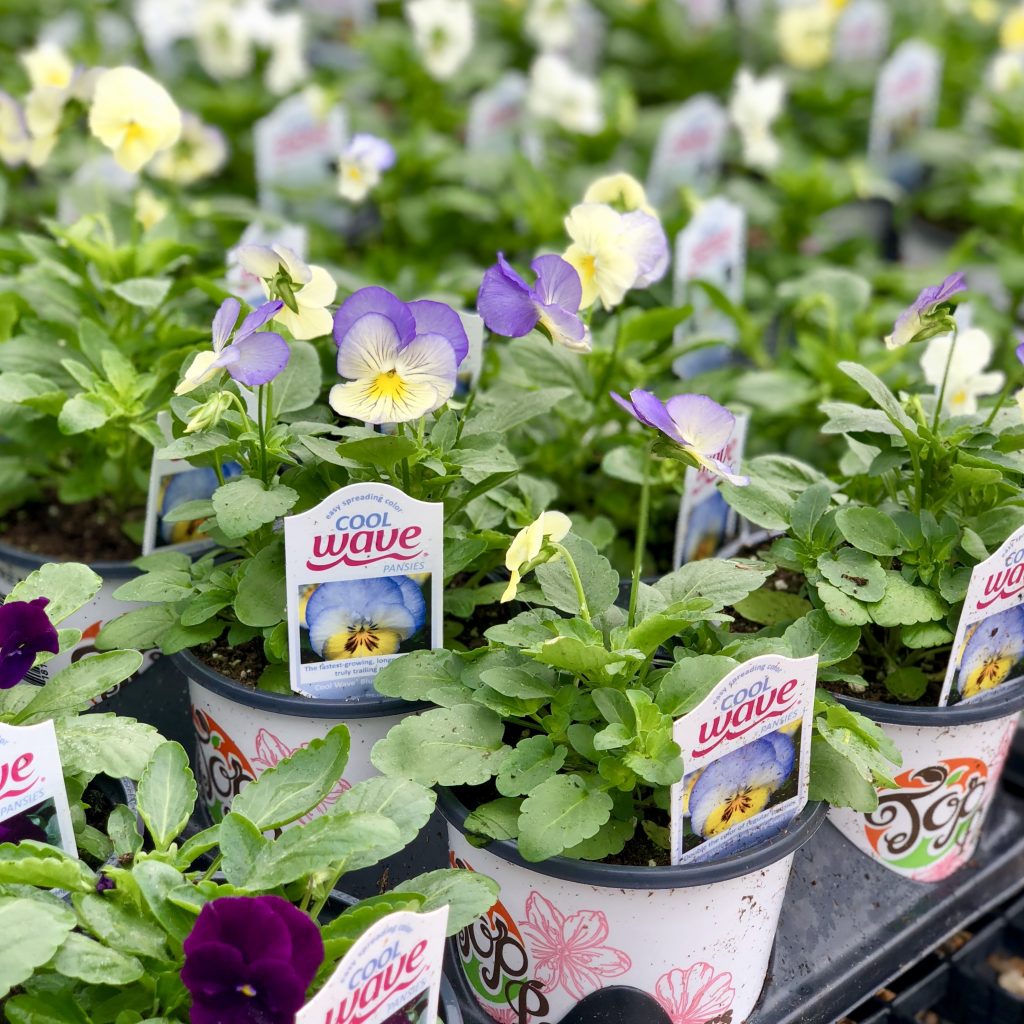 Looking for cool season color that trails over pots?  Want a way to get tons of color in your landscape beds without having to put as quite as much labor into actually planting them? Cool Wave Pansies are the answer!  Keep reading to learn all about Cool Wave pansies.
What's Cool About Cool Waves?
Cool Wave Pansies have a trailing or spreading growth habit, as opposed to the traditional upright growth habit of most pansies, violas and panolas. The bloom size is a bit smaller than the larger blooming pansies, however, the trailing/ spreading growth habit of these plants makes them perfect for pots.  Our staff knows from personal experience how awesome these are; we are talking gorgeous color, trailing out of containers with a length as long as eighteen inches.  These also create mounds of color in landscape beds; the spreading habit means you can plant them much further apart, which means less plants…which means less of your time spent planting!

Arkansas Diamond Plants
Our Cool Wave Pansies are from one of two Arkansas growers so when you get these lovely plants at The Good Earth, you know you are supporting Arkansas families.  We carry a variety of colors and our selection varies each week, based on availability from our growers.  We work hard to keep Cool Waves in stock, not only because they are unique, but because the entire series has now been chosen as Arkansas Diamonds plants.  Arkansas Diamonds are chosen by Arkansas growers, independent garden centers and educators for their toughness in gardens throughout our state.  Other cool season Arkansas Diamonds are Glamour Red Kale, Bright Lights Swiss Chard, and Rose Pink Nature series pansy.

Pansy Planting Tips
Use quality potting soil in pots and prepare the planting area in landscape beds with it.  You can get the best plants, plant them correctly and in the best spot, fertilize, water and mulch them, and STILL not have a great looking annual color display if the proper soil isn't chosen or the bed areas haven't been prepped.  Take a minute to read this blog post and pick up some Good Earth brand Professional Growing Mix and Good Earth brand Jump Start.  It's what we use for a reason… it's the best.  Pansies, panolas and violas need 6 hours of sun for optimum growth and blooming. If you have shady annual beds but that shade is provided by only tree cover, the area should get enough winter sun for pansies.
Fertilizing Pansies
Don't forget to use Ferti-Lome Premium Bedding Plant Food at planting.  This is a slow release fertilizer that encourages blooming. Most plants do not require feeding during the winter, but remember that fall, winter and early spring are THE pansies seasons.  They will absorb and utilize nutrients when temperatures are above 50 degrees… which can happen quite often during our cool season.  You can also use water soluble fertilizer, such as BR-61, on warm days for an extra shot of bloom boosting power.
Spacing Tips
Not sure how many you need?  For 10 to 12″ hanging baskets or planters, you will need 3 Cool Wave Pansies.  These plants need room to do what they do best; spread out and trail down.  If too many are packed in a pot together, they will compete for nutrients and may not grow as well as they could if given more space.  In the ground, they can spread from 18 to 24 inches across; that is one huge pansy plant! Here is a link to our spacing calculator which is handy not only for annuals but for groundcover and other plants as well.
Winter Watering
Plants do not respond well to freezing dry, and this is very true for pansies and pansy cousins. Growing becomes less vigorous after wilting so while you can let them get a bit dry, avoid letting them wilt. Make sure containers drain well; they also don't like overly wet conditions. Watch watering in covered areas; these containers only get the water you give them. If we are scheduled for lows under 25 degrees and haven't had recent rainfall, water 24 to 48 hours before these low temps.  This will give your plants time to absorb the water. Excluding the spacing tips (regular pansies, panolas and violas will need to be planted much closer together to fill in well), these tips are true for all pansies, panolas and violas.  For more information on the difference between these closely related plants, check out this blog post.
Thanks for reading all about Cool Wave Pansies with us. We look forward to seeing you this fall.  And yes, we know it's been a hot beginning to the season but temperatures are cooling down and fall is in the air!