Pumpkin and Gourd Recipes from The Good Earth Team!
Print
Pumpkin and Gourd Recipes from The Good Earth Team!
Another fall, another round of pumpkin and gourd recipes!  Our team loves cooking and baking, especially with these fall favorites.  Here are the recipes behind these delicious creations…
THANKSGIVING PUMPKIN CAKE
A pumpkin cake that's shaped like a pumpkin! The pumpkin cake is rich with brown butter, perfectly spiced, and covered in cream cheese buttercream. Chocolate leaves and a chocolate covered pretzel stem make the perfect finish.
PREP TIME50 mins
COOK TIME30 mins
TOTAL TIME1 hr 20 mins
EQUIPMENT
Bundt Pans (two identical pans)

Stand Mixer
INGREDIENTS
Cake
1 ½ cups unsalted butter
22 ½ oz (1 1/2 15-oz cans) canned pumpkin (not pumpkin pie filling)
2 ¼ cups dark brown sugar, lightly packed
6 large eggs
¾ cup whole milk
1 tbsp vanilla
3 ¼ cups all-purpose flour, spooned and leveled
1 ¾ tsp baking soda
1 tsp coarse Kosher salt (if using table salt, use half the amount)
2 tsp ground cinnamon
1 tsp ground ginger
½ tsp ground cloves
¼ tsp ground nutmeg
Buttercream
8 oz cream cheese, softened to room temperature
1 ½ cups (12 oz) unsalted butter, softened to room temperature
5-6 cups powdered sugar
1 tbsp meringue powder (optional)
1 tsp ground cinnamon
½ tsp ground cloves
¼ tsp ground nutmeg
¼ tsp coarse Kosher salt (if using table salt, use half the amount)
2 ½ tsp vanilla
orange gel food coloring, optional
Stem & Leaves
3 large pretzel rods
chocolate candy melts or chocolate chips
leaf mold for chocolate leaves
edible bronze shimmer powder
INSTRUCTIONS
Cake
Preheat the oven to 350.  Thoroughly grease all the crevices of two identical bundt pans with non-stick spray.

Place the butter in a saucepan over medium low heat.  Melt the butter, and then continue to cook, swirling occasionally, until nutty brown solids form on the bottom of the pan.  Set aside to cool for about 10 minutes.

In a large bowl, whisk together the browned butter with the pumpkin, brown sugar, eggs, milk and vanilla until smooth.

In a separate bowl, combine the flour, baking soda, salt, cinnamon, ginger, cloves and nutmeg.  Add the dry ingredients to the wet and stir just until moistened.  Divide the batter evenly between the pans and smooth out the surface of the batter.

Bake the cakes for about 27 minutes, or until a toothpick comes out clean.  Set the pans on a wire rack, covered loosely with a clean kitchen towel and cool completely.
Buttercream
In the bowl of your stand mixer fitted with the whisk attachment, beat the cream cheese and butter until smooth.

With the mixer on low, gradually add 5 cups of powdered sugar, the cinnamon, cloves, nutmeg, salt, meringue powder, vanilla and a few drops of orange food coloring.  Beat the buttercream on medium speed for several minutes, scraping the bowl down occasionally, until very light and fluffy.  If the buttercream is too soft, add up to 1 additional cup of powdered sugar; if it's too thick, add milk, a tablespoon at a time.  It should be thick enough to hold its shape.
Assembly
Remove the cooled cakes from the bundt pans.

To assemble the cake, place one of the cooled cakes upside down on a cake board or cake pedestal.  Spread the flat side with buttercream.

Place the other cake on top right side up so that you have a round, pumpkin shaped cake.

Use an icing spatula to frost the cake all over with a thin layer of frosting, or a "crumb coat", then refrigerate for 30 minutes.  Don't skip the step of crumb-coating the cake – your frosting will not stick to the cake if you try to pipe it directly onto a naked cake without a crumb coat.

For the final layer of frosting, I find it easiest with this shape of cake to use a piping bag. You don't need a tip or couple on your bag, just fill a piping bag with buttercream and snip off about 1/4 inch from the tip. Pipe the buttercream onto the cake in vertical rows (from top to bottom) just to get it onto the cake.  Then, take an icing spatula and drag it through the frosting from bottom to top, making it as textured as you like.
Chocolate Leaves & Stem
These can be made a day in advance so that the chocolate can set and harden.  Start with half a bag of chocolate candy melts, and melt more as you need them, melting them according to the instructions on the package.

To make the stem, first secure the 3 pretzel rods by tying a piece of twine around one end to hold them together.  Holding that end, dip the other end in the chocolate, and use a spoon to drip more chocolate halfway up the pretzels.  Shake off the excess and place on a piece of parchment paper to cool and harden.  Once hardened, repeat and dip the same end a second time for the best coverage.  Once that end has hardened, untie the twine. Dip the other end to coat in chocolate, then let that harden.

For the leaves, spoon the melted chocolate into your molds, let harden in the refrigerator, and then pop the chocolate out.

After the chocolate is completely hardened, I like to brush them with shimmer powder to add dimension and sparkle. Just dip a clean brush in the powder and dab onto the chocolate decorations.

Insert the stem into the middle of the frosted cake, piping a little more frosting around the stem to fill in the hole.  Garnish with the leaves.
NOTES
Leftover cake can be stored at room temperature for 1 day, then refrigerated for up to 5 days. If you need to, you can also bake, assemble, frost and freeze the cake in advance, keeping it frozen in an airtight container.  The cake should be thawed in the refrigerator, then brought to room temperature for serving.
This Pumpkin Coquito is extra creamy and filled with all the flavors of Fall! This Coquito is packed with coconut, cinnamon, rum, pumpkin, nutmeg and cloves to create a sweet and smooth holiday cocktail!
PREP TIME5 minutes
ADDITIONAL TIME1 hour
TOTAL TIME1 hour 5 minutes
INGREDIENTS
1 1/2 cups dark rum
2 cinnamon sticks
1 (14 oz) can sweetened condensed milk
1 (15 oz) can Coco Lopez (cream of coconut – not coconut cream)
1 (13.5 oz) can coconut milk
1 (15 oz) can pumpkin puree
1 (12 oz) can evaporated milk
1 teaspoon ground cinnamon
1/2 teaspoon nutmeg
pinch of cloves
1 teaspoon vanilla extract
4 tablespoons shredded coconut, optional
INSTRUCTIONS
In a very large pitcher with a lid (or two large jars with lids – this will make about 70 oz of liquid) add rum and cinnamon sticks. Let sit for 1 hour or for up to 24 hours.
In a blender, puree all the other ingredients.  Pour into the bottle and shake well to combine with rum and cinnamon sticks.
Chill for at least 4 hours and store in an airtight container in the refrigerator for up to 2 weeks.
You will need to shake vigorously before pouring as the ingredients can settle.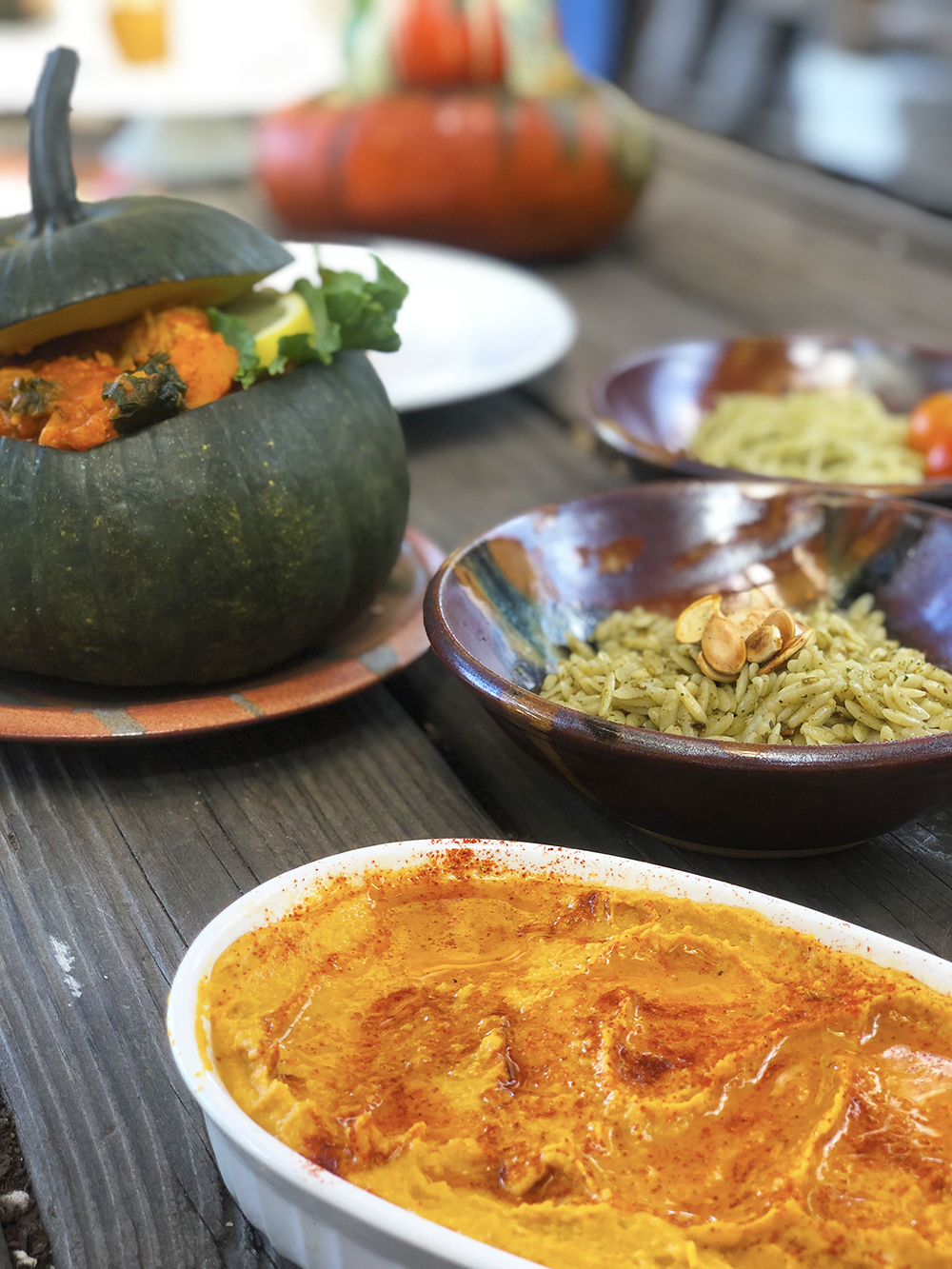 PUMPKIN FLAN WITH PUMPKIN SEED PRALINE
INGREDIENTS FOR FLAN
2 cups sugar
1 cup whole milk
1 1/3 cups evaporated milk
5 large eggs
1/4 teaspoon salt
15 oz can solid packed pumpkin (or 1 3/4 cups cooked pumpkin)
2 tablespoons golden agave tequila or bourbon
1 teaspoons ground cinnamon
1 teaspoon ground ginger
1/4 teaspoon allspice
1/4 teaspoon nutmeg
INSTRUCTIONS
Preheat to 375 degrees. Heat a 2 quart souffle dish or round ceramic casserole dish in the middle of the oven.
Cook one cup sugar in a dry 2 quart heavy saucepan over moderately low heat, stirring slowly with a fork, until melted pale golden.  Cook caramel without stirring, swirling pan, until a deep golden, about 5 minutes.  Quickly and carefully remove hot dish from oven and immediately pour caramel into dish, tilting it to cover bottom and sides. (Leave oven on.) Keep tilting as caramel cools and thickens enough to stay in place.
Scald whole milk with evaporated milk in a saucepan and remove from heat.  Beat eggs and remaining cup sugar with an electric mixer until smooth and creamy.  Beat in salt, pumpkin, tequila, and spices. Pour milk mixture through a sieve into a bowl and beat into pumpkin mixture in a slow stream until combined well.
Pour custard over caramel in dish and set in a water bath of 1 inch hot water. Put pan in middle of oven and lower temperature to 350 degrees. Bake until golden brown on top and a knife inserted in center comes out clean, about 1 1/4 hours, possibly longer. Remove dish from water bath and transfer to a rack to cool.  Chill flan, covered, until cold, at least 6 hours.
To unmold flan, run a thin knife around flan to loosen from sides of dish. Wiggle dish from side to side and, when flan moves freely in dish, invert a large serving platter with a llip over the dish. Holding dish and platter securely together, quickly invert and turn out flan onto platter.  Caramel will pour out over and around it.
Cut flan into wedges and serve with a caramel spooned over and with shards of praline.
INGREDIENTS FOR PRALINE
1 cup sugar
1/2 cup water
1 cup culled pumpkin seeds, toasted
INSTRUCTIONS FOR PRALINE
Preheat oven to 250 degrees. Lightly oil a large sheet of foil on a baking sheet and keep warm in oven.
Cook sugar, water and a pinch of salt in a deep 2 quart heavy saucepan over moderately low heat, stirring slowly with a metal fork, until melted and pale golden. Cook caramel without stirring, swirling pan, until deep golden. Immediately stir in pumpkin seeds and quickly pour onto foil, spreading into a thin sheet before it hardens. (If caramel hardens and is difficult to spread, put in a 400 degree oven until warm enough to spread, 1 to 2 minutes).
Cook praline on baking sheet on a rack until completely hardened, then break into large pieces.
PUMPKIN SEED PESTO
Description
A simple, healthy, and delicious pesto made with fresh basil and pumpkin seeds.
INGREDIENTS
½ C. Pumpkin Seeds
2 T. Freshly Grated Parmesan
2 Cloves of Garlic
1 C. Fresh Basil Leaves
½ C. Olive Oil
1/8 t. Sea Salt
INSTRUCTIONS
Toss pumpkin seeds with 2 tablespoons of the oil and salt then spread out in a single layer on a large baking sheet.
Roast until seeds are puffed and fragrant, 10 to 15 minutes, then set aside to let cool.
Put all ingredients in high speed blender and blend until well combined.
Can be thinned out with olive oil if needed.
Makes approximately 1 cup.
NOTES
This pesto is really versatile and can be used as a drizzle or tossed with pasta.
Add to soups and sauces for extra flavor.
Great on a grilled cheese or quesadilla!
REFERENCE: https://www.crazyinspiredlife.com/pumpkin-seed-pesto/
Savory Pumpkin Hummus
INGREDIENTS
1 15oz chickpeas, drained and rinsed
3/4 cup pumpkin puree (used a pie pumpkin for sweetness to contrast with smoked paprika!)
2 tbsp tahini
2 tbsp olive oil
1 clove garlic, pressed
6 Tbsp ice cold water
3/4 tsp salt
1/4 tsp cayenne
1/2 tsp cumin
1/2 tsp smoked paprika (listed as optional but I would say it's necessary!)
INSTRUCTIONS
Drain and rinse chickpeas.
In a food processor, add chickpeas, pumpkin, tahini, olive oil, and garlic.
Blend and add cold water by the tablespoon while blending. You may need to stop and scrape down sides a couple of times.
Add in salt, cayenne, cumin, and paprika.
Blend until completely smooth.
Serve with a drizzle of olive oil and more paprika.
STUFFED TURBAN SQUASH
1
carrot
, finely diced (optional)
2
tablespoons
light brown sugar
1/2 teaspoon
black pepper
5 baby bella cap mushrooms, chopped
1/2 cup sour cream
INSTRUCTIONS
Preheat oven to 350°F.
Cut the top off the turban squash, as you would for a jack-o-lantern type pumpkin.
Scoop out seeds and pulp and discard.
Place turban squash, cut sides down, on an oiled or foil covered baking sheet, and cover with more foil.
Roast for 50-60 minutes or until tender.
Scoop out tender pulp from cavity of squash.
In a saucepan, saute onions, celery, sausage and diced carrot in butter until vegetables are tender.
Drain any fat.
Mix in brown sugar, bread crumbs, salt, pepper, and cooked squash.
Stir until well-mixed.
Spoon filling lightly into the cavity of the turban squash, and cover with the top.
Place extra filling (if any) into a separate dish.
Bake squash and any extra filling for 20-25 minutes or until heated through.
Serve hot. Top with a tablespoon of sour cream.
Reference: https://www.food.com/recipe/stuffed-turban-squash-106888
CREAMY CHICKEN AND PUMPKIN CURRY
Serves: 4
INGREDIENTS
4 boneless chicken breasts
1/2 small butternut squash
1/2 white or sweet onion, chopped
1 small red bell pepper, sliced
5 garlic cloves, roughly chopped
1 stalk lemongrass (4-8? length)
1 c. 100% pumpkin puree or make your own with a pumpkin
1 c. creme fraiche, coconut cream, or cashew cream
1 c. bone broth or stock of choice
3 tbsp. Thai red curry paste
2 tbsp. tomato paste
1 tbsp. fresh grated ginger
1/2 tsp. ground cinnamon
1 1/2 tsp. sea salt
1/2 tsp. black pepper
1/4 c. dry white wine
4 large kale leaves, chopped (I like using a hearty kale like lacinato/dino)
For serving: cilantro, lemon wedges, pumpkin seeds
INSTRUCTIONS
Season the chicken on both sides with salt and pepper.  Lightly grease a large, deep skillet (12? is best but 10? will work too) with a high-heat cooking fat and place over medium heat.
When the pan is hot, brown the chicken well on both sides, about 5 minutes per side. Set aside for later (it will not be fully cooked at this point but we'll finish it off when we simmer the curry).
Cube the butternut squash to small 1/2? cubes.  If you're using a smaller skillet, you may want to cut back to just a 1/3 a butternut squash or your pan might get a bit full.
Add the butternut cubes, chopped onion, sliced bell pepper, and chopped garlic to the skillet with the rendered fat from the chicken.  Chop the lemongrass to smaller lengths, about 2?, and add to the skillet.  Cover and cook for 5 minutes.
While the veggies are cooking, add the pumpkin puree, creme fraiche, bone broth, curry paste, tomato paste, ginger, cinnamon, sea salt, and pepper to a large blender.  Blend until smooth.
Remove the lid from the skillet and deglaze with the white wine.  Simmer 2-3 minutes to cook off the alcohol.
Pour in the pumpkin puree mix and stir.  Tuck the chicken back in.  Bring to a simmer over medium heat.
Turn the heat to medium low and simmer for 8-10 minutes, stirring occasionally, or until the chicken is cooked through and the sauce reaches your desired consistency (you can also thin the sauce out further at this point with more broth or cream).
Stir in the kale and cook 1 minute longer.  Taste and season with additional salt and pepper, if needed.  Serve with toppings, as desired.