Print
Pumpkin Recipes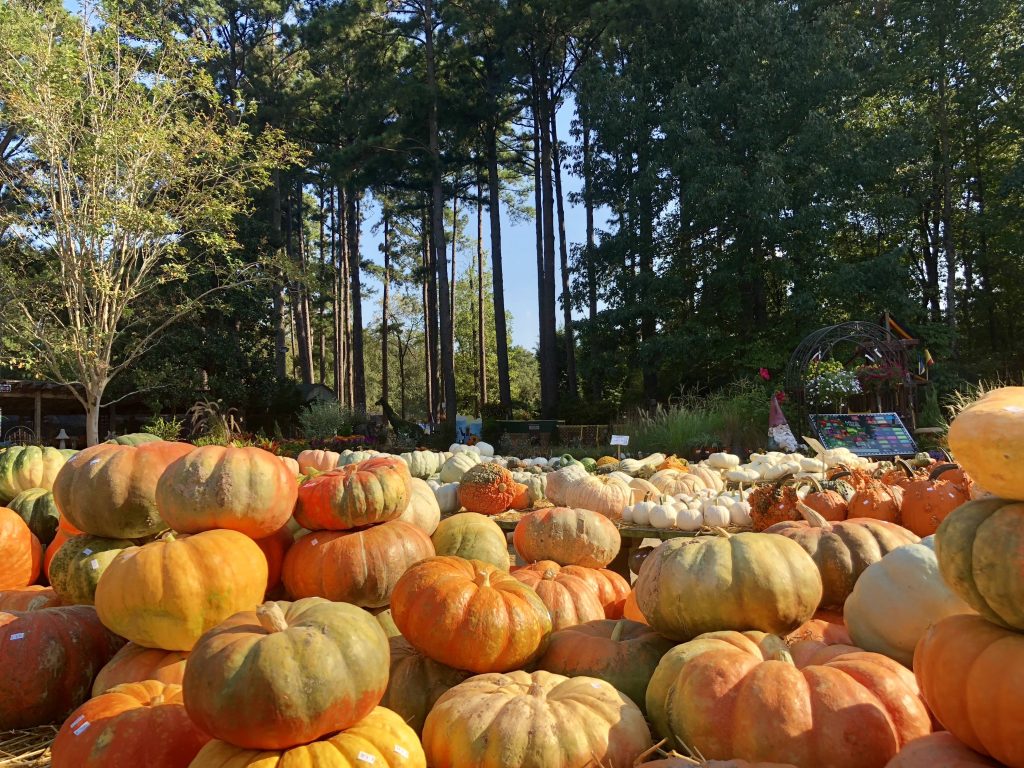 Before you check out these recipes, we wanted to remind you about all the fall decor in our Gift Shop!  Here is a link to more info about our 5,000 square foot Gift Shop.
Besides decorating, there are many delicious pumpkin recipes out there!  Our staff made a variety of pumpkin dishes and desserts and as promised, here they are.  Enjoy!
Pumpkin Chili
Ingredients
1 pound ground beef
1 onion chopped
1 14.5 oz. can diced tomatoes
1 15 oz. can pumpkin  (or pumpkin puree from Fairytale or Pie Pumpkin; directions at the end of Pumpkin Treat Recipe)
1 15 oz. can chili beans
1 15 oz. can kidney beans
1 chopped bell pepper
3 tablespoons brown sugar
1 tablespoon pumpkin pie spice
1 ½ tablespoons chili powder
2 tablespoons garlic powder
1 teaspoon cumin
1 can corn
Cook beef on stove top, when cooked all the way through set meat aside in crockpot. Put chopped onion and bell pepper into pan with a bit of olive oil. Add garlic powder, cumin and chili powder. Add to crockpot.
Drain corn and kidney beans, and pour in whole can of chili beans without draining into crockpot.
Add diced tomatoes, canned pumpkin, pumpkin spice and brown sugar.
Put the crockpot on medium for 5 hours.
T & J's Pumpkin Soup
1 pie pumpkin
1 sweet potato (medium sized)
4-5 carrots
1 shallot, chopped
4-6 garlic cloves, minced
4 cups vegetable broth
Olive oil
Cayenne pepper
1/2 tsp cinnamon
1/2 tsp nutmeg
Dash of ground cloves
Salt
Pepper
2 tsp honey or maple syrup
1/2 cup milk or heavy cream
Preheat oven to 425 degrees and line baking sheet with parchment paper.  Halve pumpkin and scoop out seeds (save for roasting).  Slice each half in half again, to make quarters.  Cover with olive oil, salt and pepper.  Place pumpkin, cut sides down, on baking sheet.  Peel sweet potato and cut into cubes.  coat with olive oil, salt and pepper.  Quarter carrots lengthwise and coat with olive oil, salt and pepper.  You can use the same pan to bake these or separate pans.  Roast pumpkin, potatoes and carrots for 35 minutes or until tender.  Remove from oven and let cool.
While the pumpkin is cooling, heat 1 tbsp olive oil over medium heat in a large pot.  Once simmering, add shallots and garlic, stirring occasionally.  cook until shallot is somewhat translucent.  When the pumpkin is cool enough to touch, peel off the skin.  Add pumpkin, sweet potato and carrots to pot with shallots and garlic.  You can use your wooden spoon to break up the pumpkin some.  At this time, you can also add the spices and vegetable broth.
Bring to a boil, then reduce heat and let simmer for about 15 minutes to allow flavors to meld.  Once it has simmered for 15 minutes or so, you can remove from heat and add coconut milk or heavy cream and honey or maple syrup, stirring these in.  Let soup cool slighly and then you can eithe ruse an immersion blender to blend in the pot, or working in batches, carefully transfer from pot to blender.
If the soup is too thick for your liking, you can add more coconut milk or heavy cream, or more vegetable broth.  Maple syrup or honey can be added to sweeten it further, if desired.  Keep in fridge for up to 4 days or freeze.
Dairy free option: coconut milk
Vegan: Coconut milk, maple syrup
If you don't wan tot use pumpkin, Acorn or Butternut squash will work well too.
Pumpkin Pie
(Original Recipe from Chef John on All Recipes)
15 oz can pumpkin puree (or puree from Fairytale  or pie pumpkin)
3 egg yolks
1 large egg
14 oz can sweetened condensed milk
1 tsp ground cinnamon
1/2 tsp ground ginger
1/2 tsp fine salt
1/4 tsp freshly grated nutmeg
1/8 tsp Chinese Five Spice
1 9″ unbaked pie crust
Preheat oven to 425 degrees.  Whisk together pumpkin, egg yolks and egg in a large bowl until smooth.  Add rest of filling ingredients, then pour into prepared pie crust. Bake in preheated oven for 15 minutes, then reduce heat to 350 and bake until set in the middle, 30-40 additional minutes.  A knife inserted into filling, 1 inch from crust, should come out clean when fully baked.  Allow to cool completely before serving.
Pumpkin Roll Cake
3 eggs
1 cup white sugar
2/3 cup canned pumpkin (or use Fairytale or pie pumpkin puree)
1 tsp lemon juice
3/4 cup all purpose flour
2 tsp ground cinnamon
1 tsp baking powder
1/2 tsp salt
1/4 tsp ground nutmeg
1 cup chopped walnuts
6 oz. cream cheese, softened
1 cup confectioners' sugar
1/4 cup butter, softened
1/2 tsp vanilla
Preheat oven to 375 degrees F (190 degrees C). 
In a mixing bowl, beat eggs on high for 5 minutes. Gradually beat in white sugar until thick and lemon-colored.  Add pumpkin and lemon juice.
In another bowl combine flour, cinnamon, baking powder, salt, and nutmeg; fold into the pumpkin mixture.
Grease a 15x10x1 inch baking pan; line with waxed paper.  Grease and flour the paper. Spread batter into pan; sprinkle with walnuts.
Bake at 375 degrees F (190 degrees C) for 15 minutes or until cake springs back when lightly touched.
Immediately turn out onto a linen towel dusted with confectioners' sugar.  Peel off paper and roll cake up in the towel, starting with the short end. Cool. 
Meanwhile, in a mixing bowl, beat cream cheese, 1 cup confectioners' sugar, butter, and vanilla until fluffy. 
Carefully unroll the cake. Spread filling over cake to within 1 inch of edges. Roll up again. Cover and chill until serving. Dust with additional confectioners' sugar, if desired.

Your magical pumpkin spice dreams come true!
Pumpkin Dog Treats Treats
2 Tbsp Peanut Butter
1/2 tsp cinnamon
1/2 tsp salt
1/2 cup pumpkin puree*
2 1/2 cup whole wheat flour
Combine all ingredients and mix until blended.  Use your rolling pin to work the mixture flat, then cut the dough into desired shape; we went with dog bone shape. Bake at 350° for 35 – 40 minutes, let cool and you're done!
*We used puree from a baked pie pumpkin, cleaned and seeded, then cut into wedges and baked for 45 minutes at 350 degrees, or until soft.  Remove pumpkin skin, collect cooked pumpkin, then puree in food processor or mash with potato masher.
Pumpkin Seeds
Butter
Garlic salt
Woo
Pumpkin Seeds*
Preheat the oven to 250 degrees F (120 degrees C).  You might notice we gave no measurements, just season to taste based on how many seeds you have collected.  Spread seasoned pumpkin seeds in a single layer on a baking sheet. Toast for 45 minutes, reducing the temperature to 225 degrees halfway through cook time.  Stir occasionally, until dry and toasted.   Larger seeds may take longer. Pumpkin seeds will start popping as they bake, don't worry, that's normal!
*We used pumpkin seeds from a Cinderella Pumpkin in this recipe.