Fair Trade and Gifts That Give Back
Print
Fair Trade and Gifts That Give Back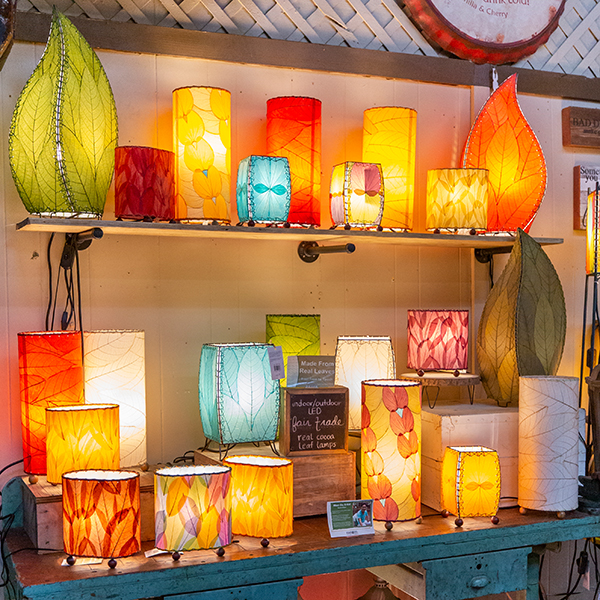 Here is how Eangee describes their lamps: 'Eangee Home Design works with a small group of artisans in the Philippines to create wonderful home accent lighting that is both eco-friendly and modern. They are some of the coolest lamps you'll ever see; the highlight is that they are made from real leaves! The amount of work and care that goes into each lamp is pretty incredible, with so much attention to detail and design.'
We couldn't agree more; they are eye-catching, warm and cozy plus fair trade!  Fair trade helps put an end to unsustainable practices in global trade and provides artisans and producers with the income they need to afford life's essentials.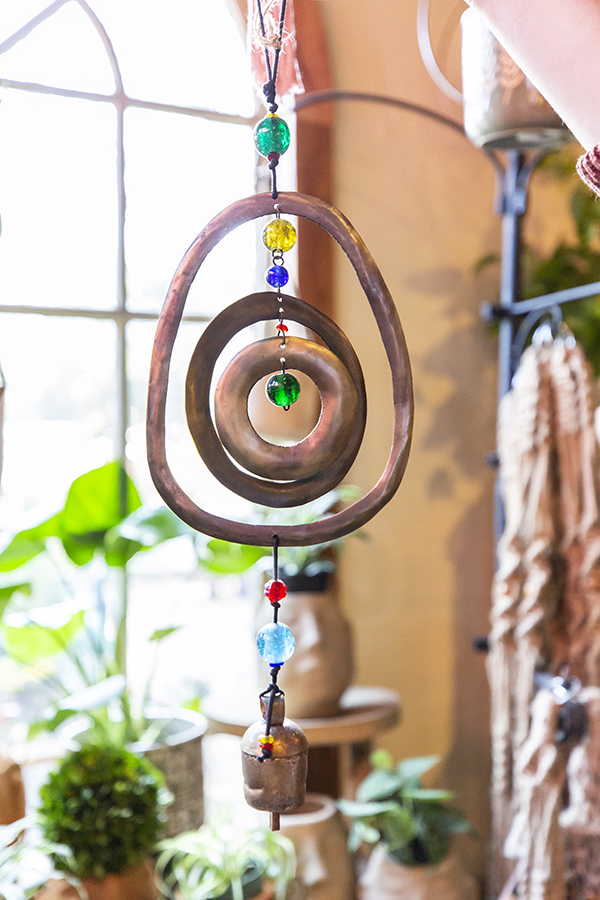 We love all the bells and chimes from Moksha, which also has fair trade practices.  They feature handmade bells, created using a secret family formula that gives them a distinctive look and sound. The hand hewn wooden clapper makes a melodic and echoing tone. The formula has been passed down from generation to generation, from one family member to another.
We have a large selection of individual bells, in a variety of sizes, and we also have ornaments like the one shown above. Ring one during your next visit for a soothing and calming sound like no other!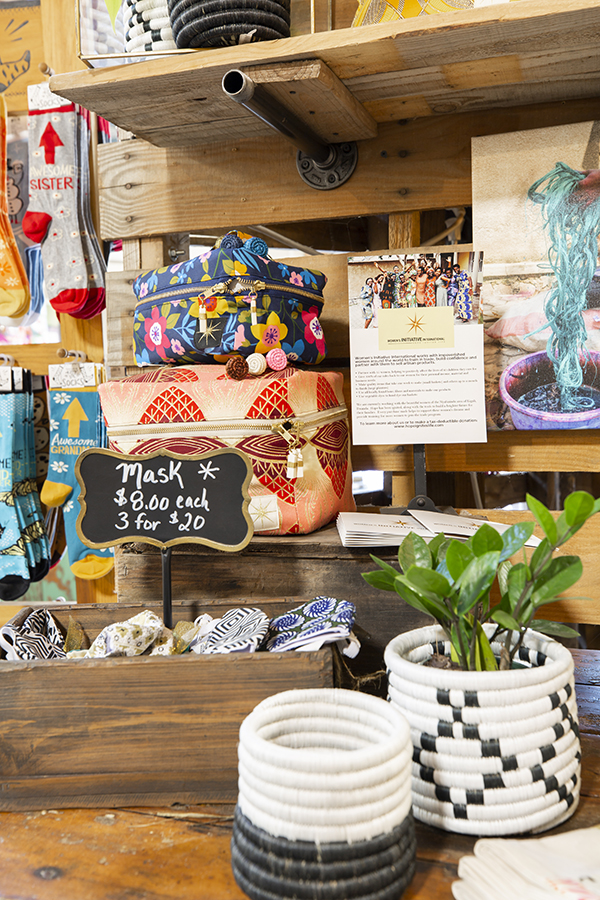 The lovely bags, masks and baskets shown above are from Women's Initiative International, and organization that works with impoverished women around the world to train in trade, build confidence and partner with them to sell artisan products. Here are some specifics:
• Partner with 15 women, helping to positively affect the lives of 45 children they care for
• Give 100% of their sales back to our women for their personal income, material and business needs
• Make quality items that take one week to make (small baskets) and others up to a month to finish (large planters)
• Use all locally found bone, fibers and materials to make their products
• Use vegetable dyes to hand dye their baskets
Women's Initiative International are currently working with the beautiful women of the Nyabisindu area of Kigali, Rwanda. Hope has been ignited, along with the tools to build a brighter future for their families. Every purchase made helps to support these women's dreams and provide training for more women to join the trade program.
To learn more about this organization or to give a donation, visit this link.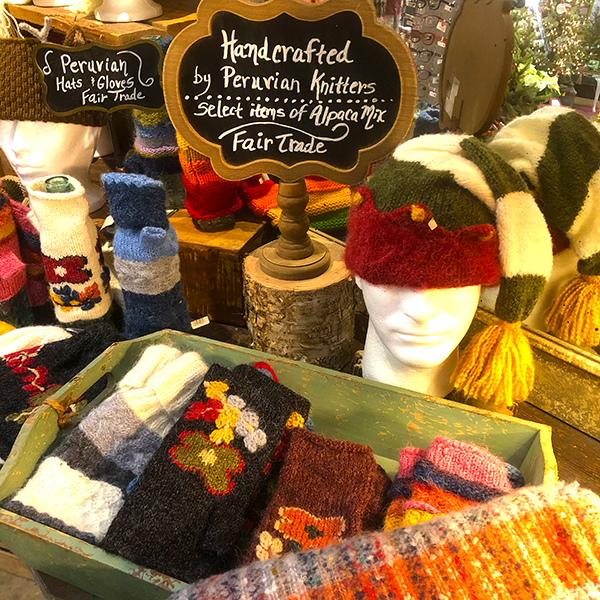 Stop by and check out the softest, coziest hats and fingerless gloves you have ever experienced! We love everything from Peruvian Trading. Here is more of their story, in their own words, 'They work with a network of head knitters and family groups in Lima, Peru, designs and yarn is distributed to the head knitters who live in the city's outlying communities. They in turn, travel to the mountain side and gather the knitters to distribute the yarn in community centers and also traveled door to door to mainly women knitters who have expert intricate hand knitting skills.
These groups of knitters will get together in their community centers and exchange knitting techniques, also with the support of the government and nonprofit organizations, master knitters will come to town and tech them the best and latest in mastering their craft.
These groups are made up of friends and relatives who arrive in the city and towns after the annual harvest because then work is not found on the fields but the populated areas. They work very hard, save money and return for the next year crops and harvest giving them the opportunity to maintain their lifestyles. Some of them become skillful enough that they themselves become the next head knitters generation.
We are very fortunate to have found each other along the way and become a mutual binding, socially and financially motivated force of development for all parties involved. We have been trading fair with our knitters before "fair trade" became trendy.
Peruvian Trading challenges ourselves to be always more creative, to reach and learn from people on the streets and from fashion trend books so we can come out with new designs and a fresh new collection every year.'
Love the story, love each one of these items!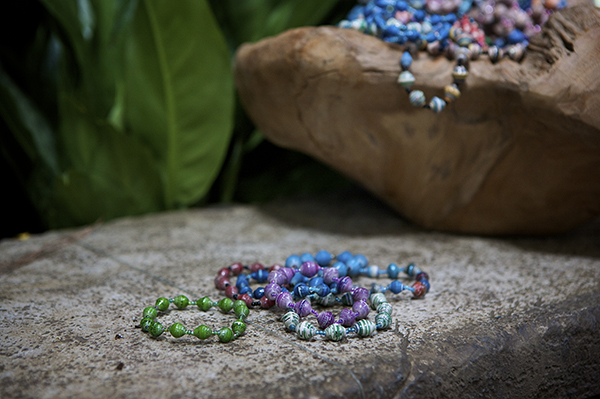 In 2010, Gregg Curtis, a team member from The Good Earth, had the opportunity to visit Uganda on a mission trip with his son Keaton (click here for video). In Kampala, at the Save Street Children Uganda Orphanage, Gregg met Byaruhanga Innocent, the Executive Director of the organization and a former street child himself.  SASCU is striving to educate, protect, and equip ex-street and other vulnerable children.  Uganda has a staggering number of street children as a result of internal wars, social injustices in homes, and premature parent deaths caused by HIV/AIDS.  As you can imagine, one child's needs including education, housing, food, supplies, medical and social welfare is costly. The Good Earth's goal is to raise funds and awareness for SASCU so that more children get the help they need.
In the summer of 2016, SASCU Staff, students and missionaries and local workers teamed up to begin developing land that was graciously given to them. They named it Providence Farm, meaning "God will provide". SASCU/Providence Farm's goal towards sustainability is through the development and growth of the farm land; breeding of animals; and donations and sponsorships to provide for the on-going needs of the SASCU orphans and other vulnerable children.
Read more about the relationship and history of Good Earth and SASCU/ Providence Farm here, including yearly updates from our trips there.
We want to provide for as many children as possible! When you buy one of these handworks, every dollar is sent back to SASCU to help the children. The beautiful jewelry is made from magazine strips that are wound around pins tightly, then shellacked several times, then strung with accent beads.