Our Staff's Favorite Gifts
Print
Our Staff's Favorite Gifts
We did this in the fall and wanted to do it again this winter; it's fun to find out which items are on our team's must have list!  Each week during this holiday season, we will highlight a team member's favorite gift or decor item from our Gift Shop.  This is merely a sampling of our offerings… to get the full experience, stop by and pick out your favorite!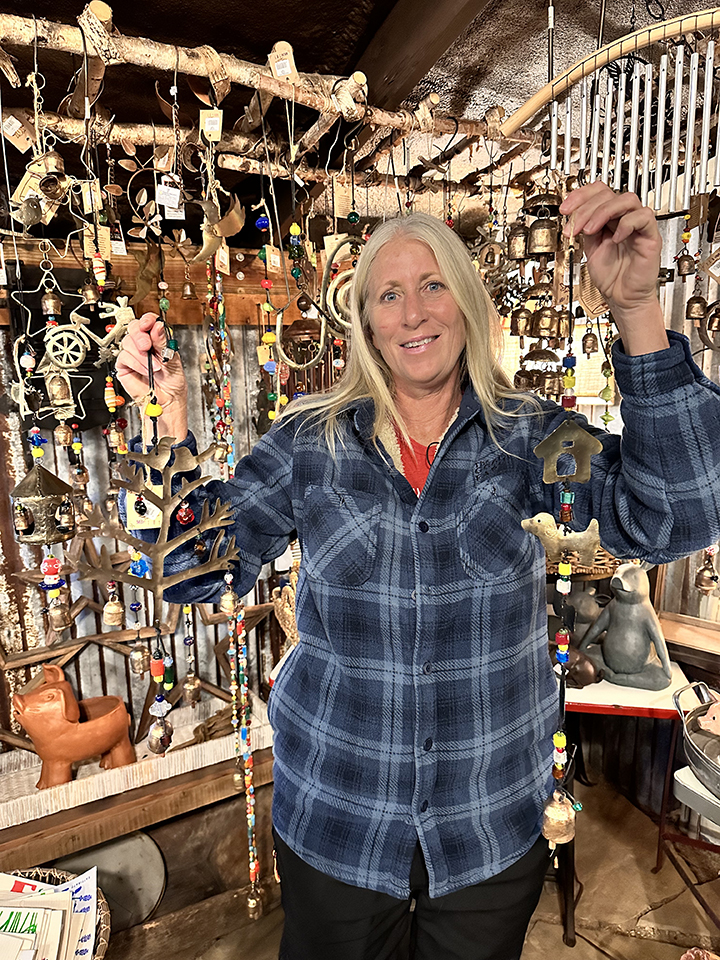 Moksha Ornaments, Chimes and Rain Chains
Kelly's Pick of the Week
I love a gift that engages the senses! Hand made by artisans in India and Bali, each of these items feature a mix of exquisite glass beads, hand cut iron and wood pieces. In addition, the cheerful sound of  NANA Bells is welcoming and delightful.
All the chimes, mobiles and ornaments are unique in their own special way; I'm holding one featuring dogs here, as an ode to my new rescue pup, Clover!  There are houses, hummingbirds, flowers, trees… all kinds of shapes. It's easy to choose one that feels personalized, just for your loved one.  We also have individual NANA bells in a range of sizes, perfect for adding to a wreath or greenery arrangement for the season. The whole Moksha line is fun to experience!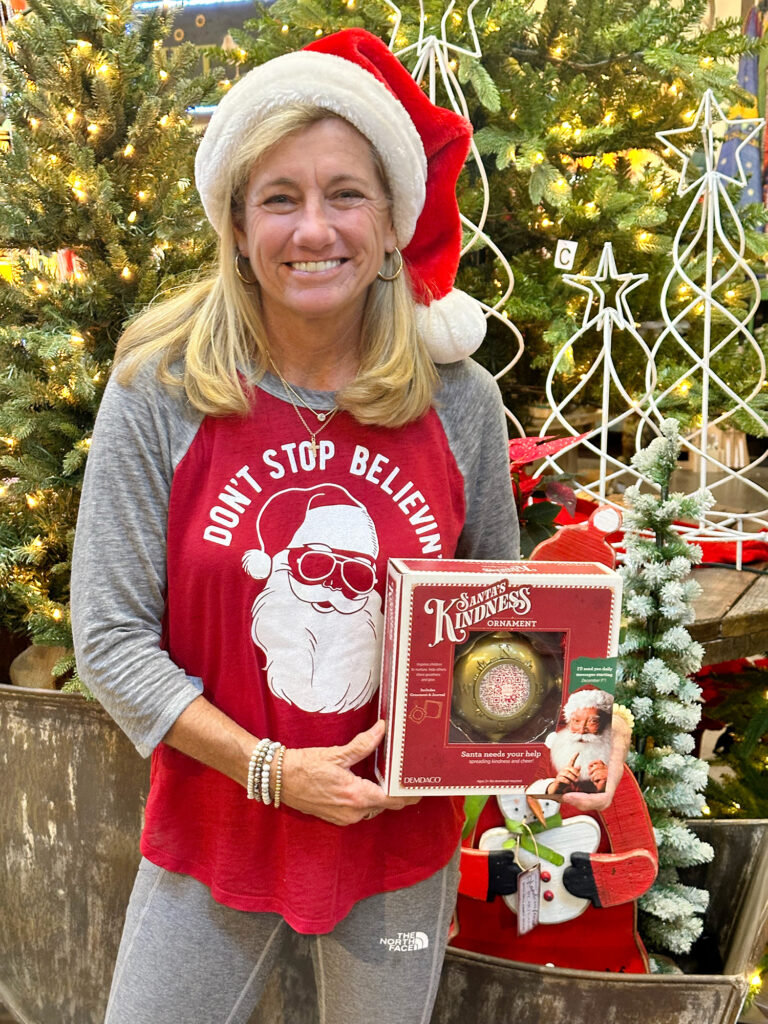 Santa's Kindness Ornament
Julie's Pick of the Week
Santa's Kindness ornament is a fun, interactive experience!  Every day in December, Santa connects with your child, children or grandchildren daily to encourage kindness and project that will keep them smiling the entire season.  It's a wonderful way to spread joy and kindness. It's easy to use too!  Just register, then use your phone's camera to scan a QR code that takes you to Santa sharing his ideas for the day. The ornament comes with a journal and we have extra journals for households with several children.  Your kids are gonna love it. Click here to watch Gregg sharing about this new, fun experience recently. Merry Christmas!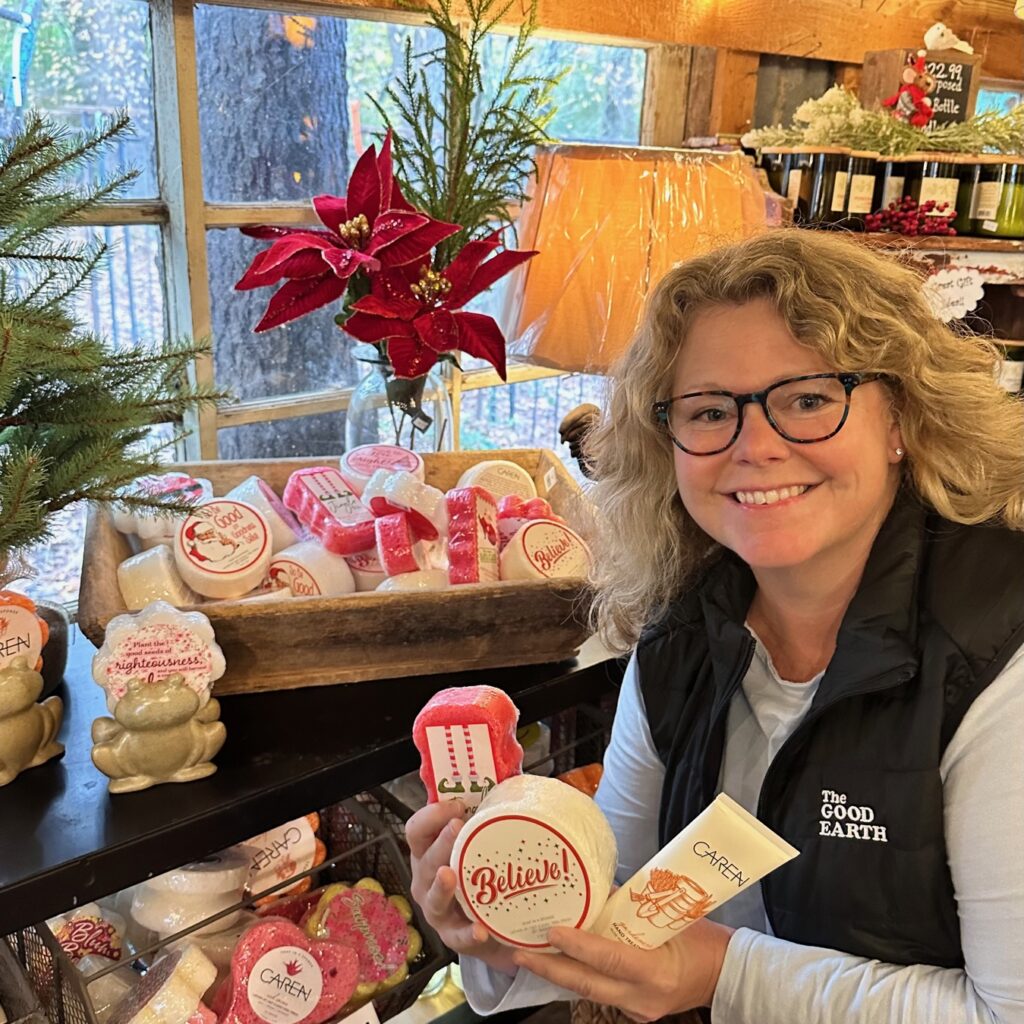 Caren's Aloe Vera + Botanical Therapy line
Jen's Pick of the Week
Caren's Gardeners Hand Treatment is my must-have lotion! Gardening, and really, working outside in general, is rough on hands. Winter doesn't improve matters either.  The Caren line is the way to go, not only with this lotion but all their skin care, including fun seasonal shower sponges.  Every product in the Caren line is sublime; and available in an immense range of scents, from sunny, citrus notes to green grass, musk, sandalwood and tree oak moss. Caren products feature a signature aloe vera base, which is then enriched with natural botanicals, vital antioxidants and rich vitamins to provide a healthy glow. Free of Parabens, Phthalates, Mineral Oil, Gluten and GMO's. Made in the USA and placed in glass or sugarcane tubes.