Our Staff's Favorite Gifts
Print
Our Staff's Favorite Gifts
We did this in the fall and wanted to do it again this winter; it's fun to find out which items are on our team's must have list!  And from socks to cutting boards, we love what they picked out!

Jonathan- One of a Kind Gifts
When I'm working with someone outside at Good Earth, I always invite them to take some time to stroll through our Gift Shop. There are tons of one of a kind, unique items you won't be able to find anywhere else in Little Rock.  This one is a particular favorite; it's carved out of one solid piece of wood!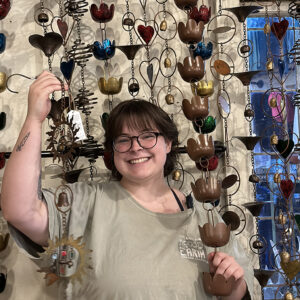 Lily Claire- Rain Chains
"A beautiful and practical accessory to any home or garden. Rain chains are a perfect gift you can enjoy all year round! With lots of designs to choose from and an easy , adaptable set up, you can prevent erosion and splashing through summer storms, spring showers and snow melt from anywhere!"

Kristine- Owls
"I give a HOOT to the owls because they are super cute and make me happy.  
Will look great in an outdoor or nature themed Christmas.
Some are white, some are blue, and we have rocks that look like owls too."

Laura- Hats, scarves and gloves
"Winter is here, which means its time to break out all the warm clothes. My favorite is  Scarves becasue they are cute, cozy and make the perfect cold weather accessory. I love that they can be used to not only keep you warm, but also to add a little color and fun to an outfit. Then add a matching hat and glove and you have the perfect gift!!"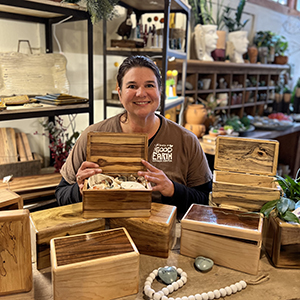 Jen M.- Zimmer Woodworks boxes
"I always enjoy these wood boxes as Richard Zimmer brings them in.  Beautiful, unique, well made and purposeful these boxes are made of native or reclaimed wood.  On the bottom of the box, it tells you what kind of wood he used such as pecan, poplar and hackberry (my favorite) among others. I have a wooden box from my childhood that I have special rocks in and whenever I look inside these, I dream of what possibilities I would put in these beauties as an adult!" Richard Zimmer is a self taught woodworker, who started woodworking in his teens. Each piece he creates is handcrafted from native or reclaimed wood, including walnut, cherry, maple, honey locust and cedar. He is excited to introduce people to quality craftsmanship."

Julie- Kantha throws
"My gift-shop pick is our one of a kind Kantha throws from India. 
Each one is handcrafted with unique patterns and colors to brighten up any room in your home. They are soft, cozy and washable. Our family loves them! I even use them as a table runner. These Kantha throws make the perfect gift year round."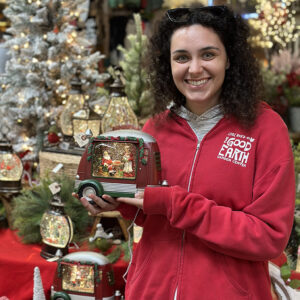 Izzie- Snowglobes
"My Pick of the week is the snow globes! I loves these sparkly filled glass with different Christmas themes. The best part about these globes is that it comes with three  different options on how to keep them on. The first one is on all the time with the one switch and using batteries, the second one is turning on the timer used by batteries and the third is through the USB cord, which is one of the most economic ways and can stay on all the time without the batteries dying!  This is also an awesome gift for kids or grandchildren that come over to the house  and have something to look forward too!"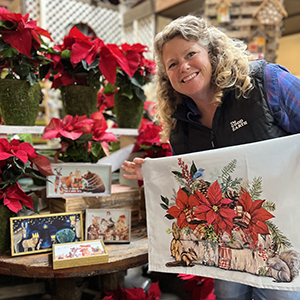 Jen G.- Greenbox
"I love the Greenbox art! Whether it's on a towel or in a frame, each one is so adorable. Some of the Christmas themed ones have a bit of glitter or gold, which gives them even more charm.  The little animals are precious and whimsical, which makes them perfect gifts. A little bit of something unexpected makes gift giving more fun to me!'

Mary J.- Primitives by Kathy Socks
"I enjoy the primitive socks by Kathy. The thoughts and designs on them are very clever. I love watching people's reactions as they browse through the socks and read the sayings. There is always a pair of sock for a special someone in your life."