Why I Love Mystic Spires Salvia
Print
Why I Love Mystic Spires Salvia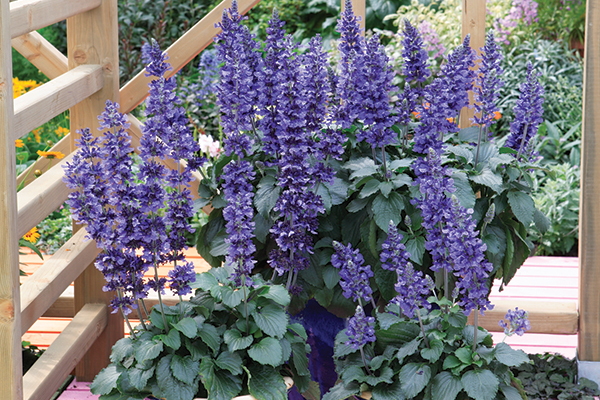 This blog post was contributed by Jen Mistretta, Good Earth's perennial grower.  Her garden is show stopping and she is always trying new plants; plus, she is always up for sharing her tips and tricks for ultimate success!  Keep reading for all the reasons Mystic Spires makes it onto her must-have list.
From the Garden of Jen M.
This impressive Salvia has been around for awhile, but few realize just amazing it is. In the spring they can get overlooked especially if there aren't any blooms yet.  I was very much impressed, all summer long.
Designing with Mystic Spires Salvia
Every year I do a big seasonal color flower bed in my front yard.  I play around with different colors, textures and plants.  Last year I got 5 of the Salvia Mystic Spires and while they are perennial I decided to put them in my front flower bed. The tag reads as follows: Grows 18-30" tall. Sun to part sun. The internet indicated perhaps taller.
My approach to this flower bed starts off with a solid plan and loosens up once I start shopping.   Suddenly ideas start expanding, and oh yeah, I need some of that too is said often.  The next thing I know I have a heap of plants that I need to transform into a solid plan.  Again.
In the end I wound up putting these guys in front of Begonia Big.  Which as the names suggest gets 24" tall or so.  I figured by putting them in the middle would work itself out one way or another.  There was some tropical plumbago and some purple fountain grass involved nearby and behind as well. The Salvia Mystic Spires grew so fast it shaded out the begonias behind them, causing them to not grow at all which I thought could happen. Begonias take a bit longer to get going I have noticed.  The plumbago and purple fountain grass behind them grew in and in the end it worked out.  The begonias got edged out, that's all.  Overall growth was 36" tall and a good 24" wide.
The Salvia bloomed ALL summer, even in the heat.  And it didn't care about the humidity as I did.  My neighbors ooh and ahhed all summer and always pointed out the Mystic Spires each and every time.
Don't forget to feed your Salvia
What I did was this, fertilized and fertilized often! Use the Ferti-Lome Bedding Plant food or Osmocote (both of these are time release) when planting and water in with a liquid soluble fertilizer such as BR-61, or Miracle-Gro.  Reapply the time release 3 months later and continue with a twice monthly liquid feeding.
Professional Tips
Pinch off the tips (like you would a Coleus).  How far down depends on the height of the plant when you buy it.  By doing so, you will have a thicker, more branched out plant which in turns equals to more flowers later.
Deadheading was not a big deal with these.  Every week or so, I would pinch off the old flowers and smile, seeing that there were new flower spikes everywhere.
In the fall when it was time to rip out my bed, I dug up the Salvia and transferred them in the back yard.  I had also cut them hard, in horticulture speak means that I cut them pretty far down, to about 8-10" tall.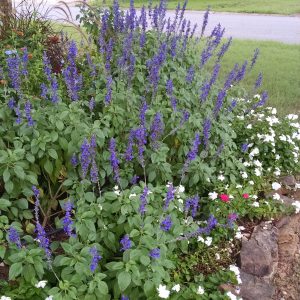 Caterpillars can possibly bother all Salvias, meaning they can eat the flower buds.  Just watch for the "frass" which is caterpillar droppings left on top of the leaves.  Spray Bacillus Thuringiensis (BT), it is very safe to use and doesn't hurt butterflies or bees.
Mystic Spires Salvia Awards
2018 Texas superstar plant by Texas A&M agrilife research
2018 4.72 out of 5 at the Penn State flower trials
2017 One of the best drought tolerant perennials Dallas Arboretum
2017 4.15 out of 5 at the Young's Plant Farm in Alabama