Good Earth's Hanging Gardens
Print
Good Earth's Hanging Gardens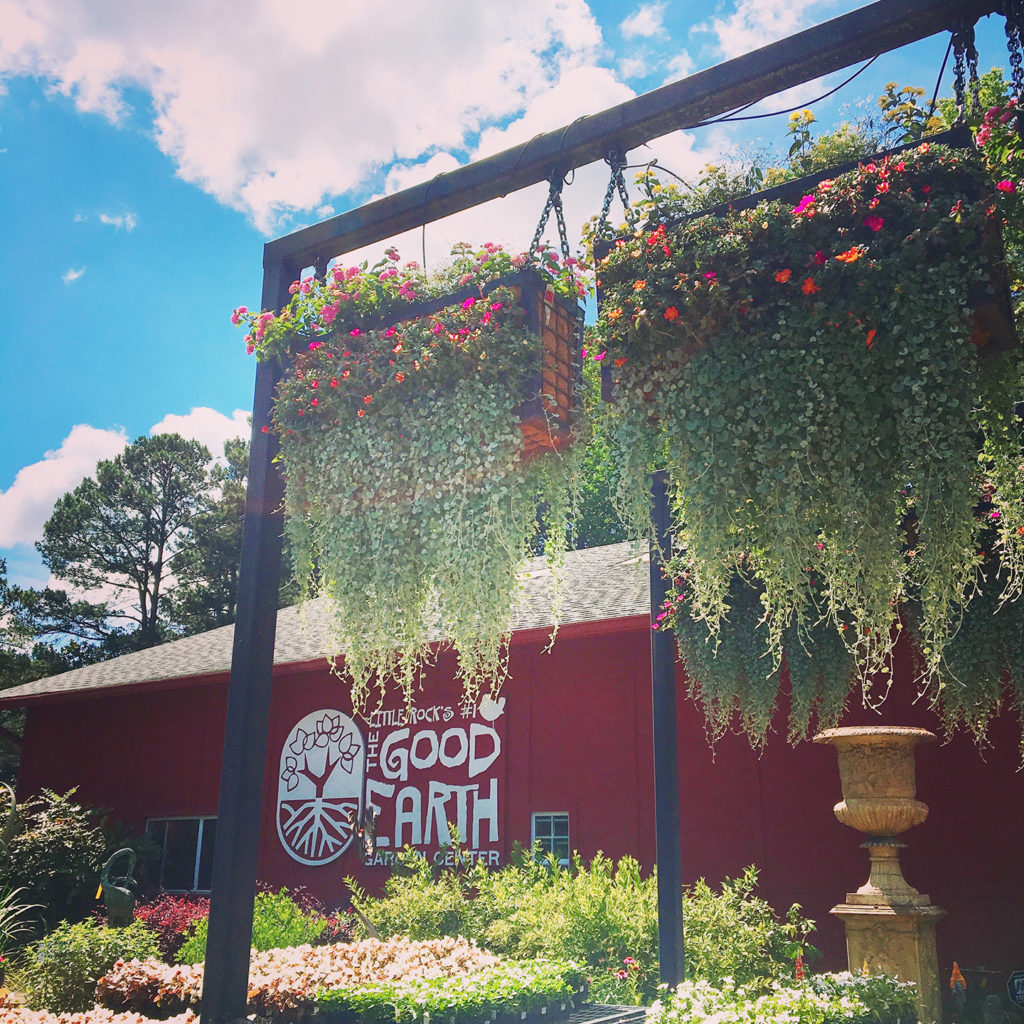 Spring 2019 update
This year, the gardens are planted with two different varieties of Lantana, Bandana Lemon Zest, and Bandana Cherry Sunrise, all planted in the tops of the planters, and then Rio Series Raspberry Lemonade, Orange and Yellow Purslane on the sides and near the bottom of the planters, the Silver Falls Dichondra.  We also planted a few Breathless White Euphorbias in the top of the planters. We typically hang the planters mid-April or so, after planting them in March.
We get tons of comments and questions about our Hanging Gardens over the Gift Shop entrance every year!  These welded baskets were custom designed for us and are very heavy duty.  The baskets are lined each year with fresh burlap.  A plant design is created and x's are cut in the sides of the coco-moss liner in strategically placed spots, which are then planted.  Here is a rundown of the plants and maintenance of these sun-loving beauties.   As we all know, Central Arkansas summers are hot with sporadic rainfall, although this summer has been a welcome exception! We typically hang the planters mid-April or so, after planting them in March. This gives them extra warmth in order to encourage root establishment.
All of the plants (listed below) were chosen for both their heat and drought tolerance.
Why we love these annuals:
In addition to being heat and drought tolerant, these plants are all self cleaning… no deadheading, no trimming, and no sidewalk cleaning necessary.  Bottom line, we love these plants!  They have given us all season blooms with basically no care at all.  As far as watering goes, this year drip irrigation was added and these get watered via the system three times a week for 20 minutes. We also fertilize twice a month with water soluble fertilizer such as BR61.  Maybe the most commonly asked question is, 'What is this stuff that looks like Spanish Moss?'  Find the answer below!
1.  Euphorbia 'Diamond Frost' or 'Diamond Snow'

There are both perennial and annual Euphorbia plants; Diamond Frost is an annual variety, great for adding a fine texture and light, airy feel to planters.  It works great as a filler or in this case as the top layer of a mixed planter.  There are two Diamond Frost plants in the top of each planter.
2. Lantana
We mix it up each year and alternate the lantana color to complement the purslane colors of the year.  This is another one chosen for its' hardiness, drought tolerance and ability to thrive and bloom, regardless of how hot it gets.
3. Purslane
Talk about amazing!  Purslane plants are true givers, perfect for areas that don't get much water.  The blooms are only open during the day and close up at night, which is a neat little characteristic!
4. Dichondra 'Silver Falls'
It's most intriguing plant for most of our visitors!  You have most likely seen (and overlooked) this plant for years.  We carry it in small 4″ pots and it doesn't look like much when it is young… just some silver leaves in a pot with runners growing over into other pots.  BUT once you use it, you will fall in love with it!  It's a wonderful spiller for planters as you can see!  These are the long spanish moss looking runners that grow from the bottom of each basket; there are 9 on each side of each basket. Yes, these are the very long silver curtain-like plants that wave you in from off Cantrell Road with their 6 foot long waves!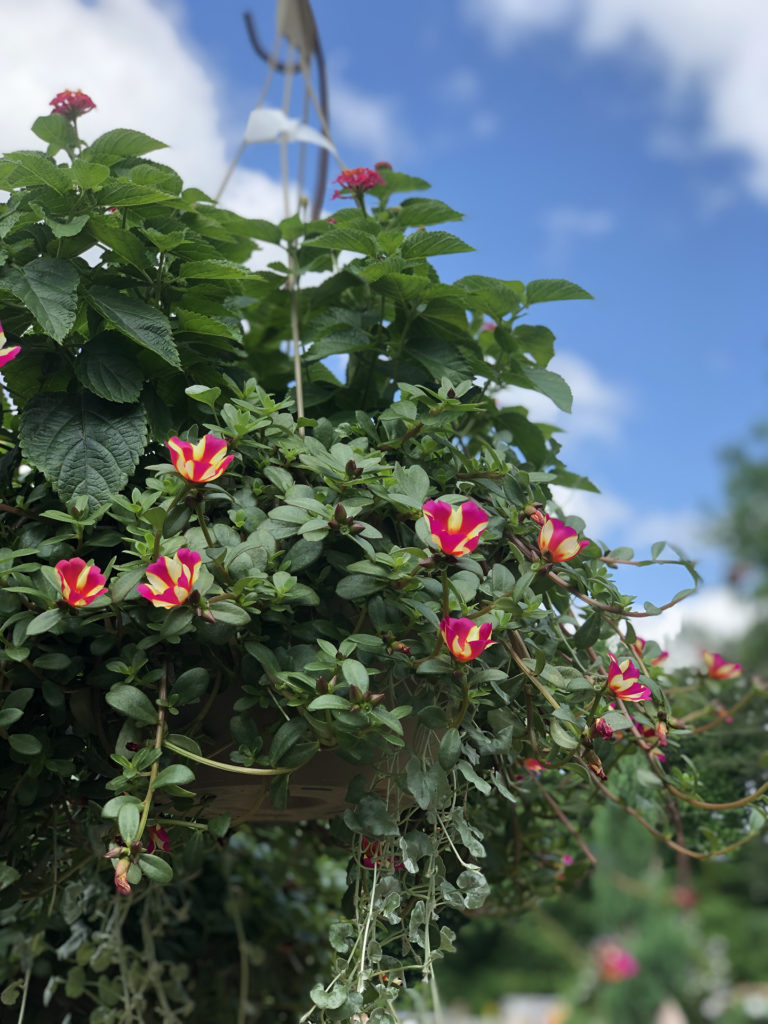 Look for Good Earth Hanging Garden Samplers this spring!  These hanging baskets have lantana, purslane (several colors available) and Silver Falls dichondra in them.  It's a perfect opportunity to enjoy a bit the Good Earth Hanging Gardens at your home all season long!
We have all of these plants in stock right now, so it's a great time to create your own tough, summer heat lovin' hanging basket or pick up one of our Good Earth samplers! Once we are out, we are out for the season…